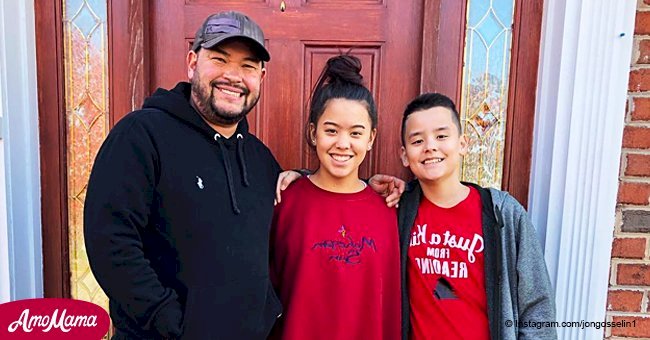 Collin Gosselin reportedly ends his treatment program to return to father Jon
One of the sextuplets of former TLC couple Jon and Kate Gosselin, Collin, will be joining his family in their home this week, after spending two years at a treatment facility.
This news is coming right after the custody battle of the couple over their sextuplet. Jon Gosselin won temporary custody of his son, Collin, after his ex-wife failed to appear at a custody hearing earlier this month.
Follow us on our Twitter account @amomama_usa to learn more.
This is fantastic news for the Pennsylvania DJ, who was hoping his son will be returning home to him before Christmas. According to Jon's longtime friend and barber, Eric Rodriguez, "Jon is hoping for December 18. Let's hope he gets out soon"
Now, his hope will become a reality - Collin seems to be coming home to his daddy.
The fourteen-year-old son of Jon had in the past called the facility where he has been receiving treatment for behavioral and other special needs issues home. He would be coming back not just for the holidays but to stay with his father permanently.
Close relatives to the "Jon and Kate Plus 8" family revealed that Collin would be returning home later this week.
Although he was pictured with his dad and Hannah, his sextuplet sister, when they visited him at the treatment center on his birthday, 14th of March; Collin Gosselin has not been pictured in the past two years with his mum and most of his siblings.
He's also made recent holiday visits home to Jon's house in the past few months. Of all the visits, Thanksgiving is the most recent. He was also seen Christmas tree shopping with his dad, his dad's girlfriend, Colleen Conrad, and his sister. Colleen also brought her two children along for the ride.
The father of sextuplet explained in a recent interview with People, his living arrangements with his children. He says two of the sextuplets will live with him while the other six children would continue to live with his ex-wife Kate in the large Pennsylvania home they once shared.
"Hannah lives with me full time, and then Collin. Leah, Alexis, Joel, and Aaden, they're with their mom, and then the twins are 18, so they're adults," Gosselin said.
The DJ dad spoke about the "non-existent" relationship between Collin Gosselin, his mum Kate, and his other siblings. He said Collin only speaks to Hannah out of his seven siblings. And although the teenager does not have a relationship with the other members of the family yet; he is very hopeful that he will share a relationship with his siblings soon.
Jon's excitement to see his teenage boy finally come home after all this while was apparent. Close sources say he's been counting down to the days of the young teen's arrival and it's any time from now.
Please fill in your e-mail so we can share with you our top stories!