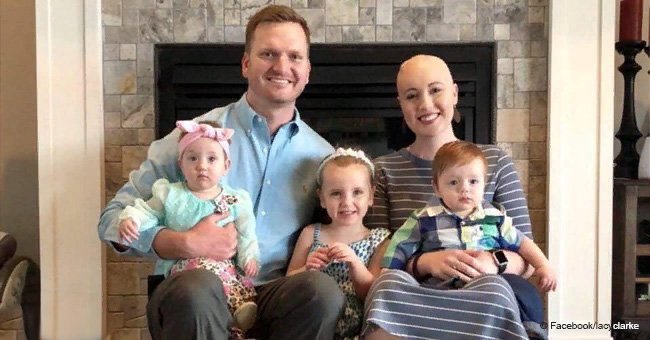 Mother refused cancer treatment to save her twin pregnancy

Danielle Dick needed an immediate radiation therapy. But she knew this would kill her unborn babies, so she decided to refuse the treatment.
As reported by Today, Danielle battled stage 4 melanoma throughout her pregnancy with her twins, Reagan and Colby.
On July 12, 2017, the twins were delivered at 29 weeks. Danielle, a physical therapist, bravely fought the cancer from that point on. Unfortunately, she passed away on April 25, 2018
Years earlier, in 2011, Danielle's husband, Tyler Dick, 32, a nurse anesthetist, noticed a small mole on her back.
The doctors diagnosed Danielle with a serious form of skin cancer called melanoma.
When the doctors removed the mole and the lymph nodes, they thought that they removed all the cancer.
In 2015, Danielle and Tyler, who were married on July 5, 2008, became parents to daughter Taylor.
A year later, Danielle was pregnant with twins and she had difficulty speaking. The couple visited the obstetrician who believed it was probably "pregnancy brain."
Tyler told Today: "That made sense to us."
But in April 2017, the symptoms got serious, including loss of speech. Danielle was rushed to the emergency room, where doctors discovered three masses in her brain. The tests revealed they were melanoma.
Her medication to fight the cancer was limited until the twins were delivered via Caesarean section. The newborns, Reagan and Colby, were thriving after only a week and a half in the neonatal intensive care unit.
"They were doing great," Tyler said. "We still have to get a lot of ultrasounds and chest X-rays to just keep an eye out to possible spread (of cancer) to them."
Ten months after giving birth to the twins, Danielle died in hospital in Houston in spite of the numerous interventions.
Tyler is now sharing his wife's story to raise awareness about how dangerous skin cancer is.
"I hope that people realize the importance of going to the dermatologist regularly. That is what she wanted people to know as well," he said.
According to the American Cancer Society, melanoma is the deadliest form of skin cancer, which kills more than 9,000 individuals yearly.
Please fill in your e-mail so we can share with you our top stories!