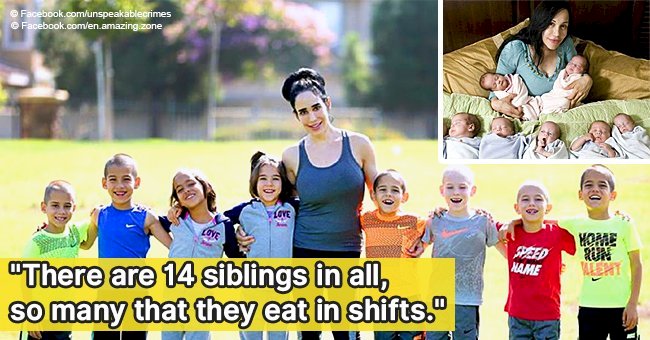 'Octomom' reveals how she's doing nearly 10 years after delivering 8 children
Nadya Suleman earned worldwide fame back in 2009 after she gave birth to octuplets. She received the nickname "Octomom," but her life went on the wrong path when she started to make bad choices to support her kids. Now, nearly ten years later, she wants to clear her public image.
She has 14 kids in total. The octuplets are 9-year-old, they are six boys: Noah, Josiah, Jonah, Jeremiah, Isaiah and Makai, and two girls: Nariyah and Maliyah. There's also Aidan, 13, who has autism; Amerah, 16, who acts as a second mom to the younger ones, Calyssa and Caleb, 12; Joshua, 15 and Elijah, 18.
All of them were born through IVF.
Suleman, who goes by Natalie now, is living on a modest three-bedroom house in Orange County, California, some of her kids have to sleep in couches, and they take shifts to eat. The once-disgraced mom recently opened up to the New York Times about her life, her past mistakes and how the media ruined her reputation ten years ago.
She was never the poster-mom, and she knows it. Suleman posed nude for money, sold a sex-tape, went through different plastic surgeries, spent some time in rehab and had an erratic behavior overall after her eight kids drove her to international fame.
"I was pretending to be a fake, a caricature, which is something I'm not, and I was doing it out of desperation and scarcity so I could provide for my family," she said. "I've been hiding from the real world all my life."
The now 43-year-old revealed that she entered the world of pornography led by her manager, who was an adult film star. "I wanted to quit, but my manager said, 'If you do, I'm reporting you to welfare for fraud,'" she said.
Suleman, who leads a vegan raw lifestyle and doesn't believe in vaccines or medicines, says her children are aware of everything that went down in her life. "We talk about everything," she stated. And continued:
"They know, they went through it with me. It's a huge weight lifted off of all of them when I went back to who I was. We were struggling financially, but it was such a blessing to be able to be free from that. Those were chains."
"Octomom," she said, was created and corrupted by the media. She said she never wanted the attention, but the contradicts herself saying that she took whatever she could back then, letting reporters enter her life as she spiraled down a black hole.
"I was doing what I was told to do and saying what I was told to say. When you're pretending to be something you're not, at least for me, you end up falling on your face."
She's now working on a book that will recount her experience. "That's why I want to do this interview," she said. "I've been writing this manuscript since graduate school.
Despite all the criticism and the backlash she faced, Suleman did a great job with her kids.
"The octuplets are small for their age, but they're polite, they cook, they're vegan, they read two books a month and do their homework without being prompted. In spite of all of the horror stories in the tabloids since birth, they're model fourth graders."

– New York Times.
Amerah, 16, is aware of all the sacrifices her mother did for their family. "She's been fighting for our family for ten years now. No matter what, she's never going to give up, and I know that," she said.
Please fill in your e-mail so we can share with you our top stories!