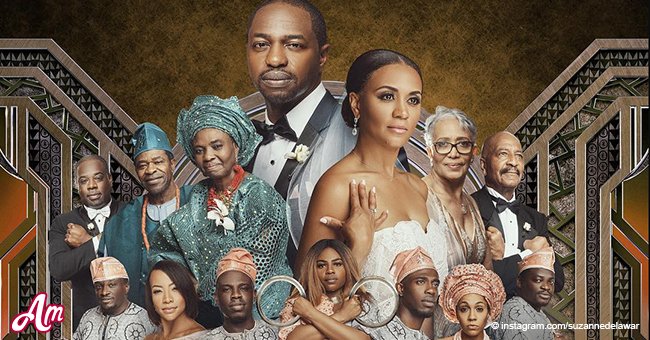 Meet the couple whose 'Black Panther' themed wedding poster went viral in 2018
This bride and groom commissioned their photographer to recreate the "Black Panther" poster in immortalizing their wedding photos. See the amazing result.
This bride and groom commemorated their wedding the Wakanda way. With the help of their photographer, they recreated the poster of the movie "Black Panther" and incorporated their wedding photos.
THE WEDDING POSTER
In the heels of the success of the first Black superhero film. "Black Panther," wedding couple Natalie and Michael Adeleye who are fans of the movie decided to pay tribute to it in the most unusual way – a wedding poster mimicking the blockbuster film's own.
The couple's wedding photographer, Suzanne Delawar used her creativity to transform the images she took from the event into an all-star-cast poster similar to the film's original poster. The Adeleye's version featured the bride and groom as well as the rest of the wedding entourage including their families.
The result was a viral photo shared by Delawar on her Instagram.
"Black Panther. Wedding Edition," Delawar wrote to accompany the spectacular recreation she shared.
"When our bride & groom told us how much they loved Black Panther we knew we had to do something EPIC. So, what better way than to recreate the poster of the record-breaking film!"
THE STORY BEHIND THE MAKING OF THE POSTER
According to the backstory shared by Brides magazine, it was lead photographer Dominique Comerie who pitched the idea of a movie poster to the bride. Skeptical at first, Natalie told her husband about it and Michael loved it. Natalie told the publication,
"His family is from Nigeria and my family is from here so it just made sense. It also didn't hurt that her hubby is a huge Marvel fan. It came out better than I imagined."
Wedding photos are forever, sometimes lasting more than the marriages they cover which is why many couples hire the best photographers to capture their "I do's." But what if you have the perfect setting and a master photographer and nature intervenes?
ANOTHER UNUSUAL BUT REMARKABLE WEDDING PHOTO
This is what happened to the wedding photo shoot of couple Kirea Lovell and Jenny McCauley who staged a beach wedding in Hawaii. While taking perfect images to commemorate their union on the sandy beach, a giant wave greets them from behind and drenches them wet. Though the wave wasn't supposed to be part of the original shot, the photographer managed to take a beautiful photo as the wave came crashing towards the couple. Suffice to say, this couple's wedding photos turned out to be one of a kind and quite remarkable.
Please fill in your e-mail so we can share with you our top stories!