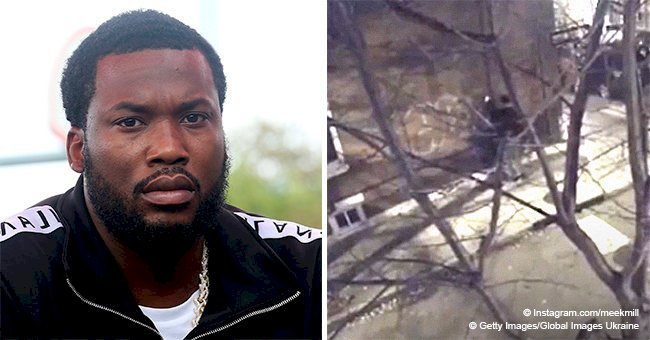 Meek Mill says a 'white man' sprayed racist graffiti on his grandma's newly-purchased home

Meek Mill is accusing a "white man" of vandalizing his grandmother's Philadelphia home with a racist message. He captured surveillance footage of the act and tweeted about it.
The rapper, Meek Mills took to social media to express his distress after his grandmother's home was vandalized. He is accusing a "white man" of leaving a racist message sprayed onto her home.
In a message on social media, Mills revealed that his grandmother used to live in an all-Black neighborhood. However, after the neighbourhood went through gentrification and it changed completely.
The rapper went on to promise that if he found the perpetrator he would make them taste a "little street justice."
"A white man sprayed a racial remarks on my grandmom's house last night in South Philly referencing white privilege. The crazy part is this was a all Black neighborhood 20 years ago. It was gentrified and now this. Just don't let us catch you, coward … The funny part is we just bought this house. After it's remodeled more Blacks coming soon." wrote Meek
According to reports, the man wrote the word "ACORN." Meek and his team translated it to be a reference to white power.
The "What's Free" rapper filed a vandalism report with police. The police are currently investigating the incident.
Meek shared the surveillance footage to Instagram. Many fans sympathised with his grandmother, while others said the spray paint wasn't a racist remark, just something written by a Philly graffiti artist named Acorn.
"Can we zoom in on this terrorist? What he did is a hate crime, terrorism, vandalism, threatening personal safety, trespassing and maybe a few other crimes. Find him and press charges." tweeted someone
"Wow will it ever stop... what are they mad for our people were the slaves not theirs. I just don't get it" commented one Instagram user.
Please fill in your e-mail so we can share with you our top stories!