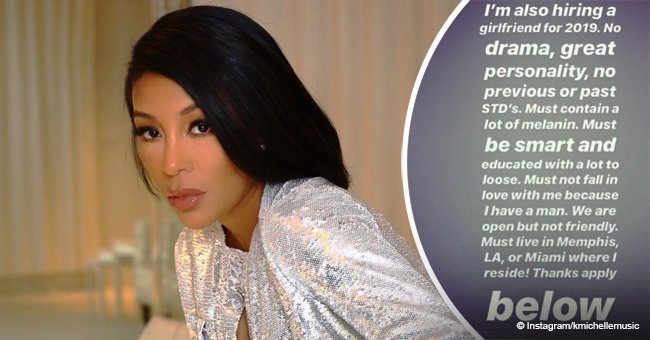 K. Michelle announces she wants to hire a girlfriend with 'lots of melanin' in recent post
K. Michelle is hiring people in all aspects of her life, as she recently revealed on an Instagram post. One of the open positions is for a "girlfriend" with "lots of melanin." But is a requirement not to fall in love with Michelle or her boyfriend.
The "Love & Hip Hop: Hollywood" star raised eyebrows among her followers with a now-deleted Instagram post. In it, the singer revealed that she's looking to hire a girlfriend to share with her boyfriend for 2019.
She also listed the requirements for the role, stating that applicants must be 25 or older, "be smart and educated," have no dramas, no STD's, have "lots of melanin," be willing to go through a background check, sign an non-disclosure agreement and most importantly, "must no fall in love" with her because she has a man.
"We are open but no friendly," she added.
The position offers trips to tropical destinations, exclusive events, and concerts with the singer. Also, applicants should live in Memphis, Los Angeles or Miami.
TROLLING OR NOT, FANS ARE NOT IMPRESSED
K. Michelle posted the announcement after she shared a different one looking for managers, bartenders, hostess, line cooks and more staff for her two restaurants in Atlanta. So, is not clear if she was joking or being serious about the girlfriend role, but she ended up deleting the post after fans filled her comment section with snarky remarks.
People had different reactions to the post. While some think is smart of Kimberly to be in control of her "open relationship," others believe she shouldn't allow her man to have an eye for anyone else that isn't her.
"Sad. If the girl is smart, she wouldn't even apply. Don't do it, ladies. Money is not everything," wrote one user. And another added, "I know @kmichellemusic graduated from college, but why all of a sudden she sounds like a damn fool... I'm more embarrassed for her immediate family."
TWINS ON THE MAKING
The 33-year-old recently revealed on Instagram stories that her surrogate had been approved and they're moving forward to bring twin babies for Michelle and her long-time boyfriend, Doctor Kastan Sims.
"My Surrogate has been approved!" she wrote. "They say she's really kind and a perfect match for my babies. I thank God for her."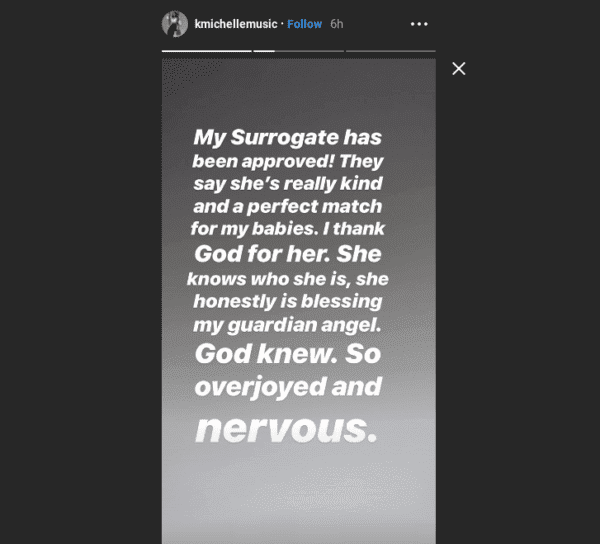 Source: Instagram/kmichellemusic
She first revealed her fertility struggles in 2017, stating that after her lupus diagnosis, she was facing troubles to get pregnant. And even though she got the green light from her doctor to carry the babies through IVF, she decided to go down the surrogacy path.
Maybe that's why Michelle and her partner are looking for a girlfriend, to have some fun before they become parents.
She also has a 14-year-old son from a previous relationship.
Please fill in your e-mail so we can share with you our top stories!