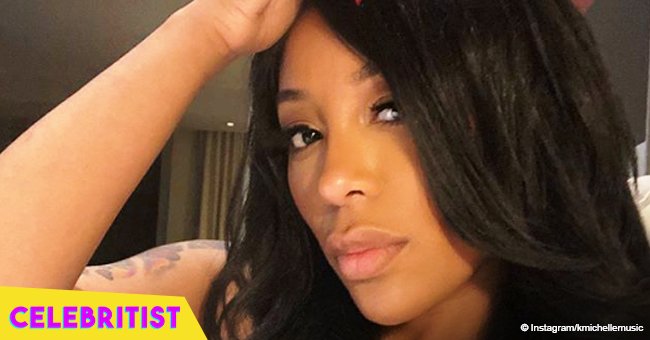 K. Michelle stops hearts after revealing she's ready to have her 'own babies'

K. Michelle reveals that after getting clearance from her doctors, she can finally have babies of her own without having to hire a surrogate.
The "Love 'Em All" singer shared that her recent trip to the doctor has given her good news. After getting rid of all her body fillers, he deemed it possible for her to have her own baby without needing a surrogate.
Last Thursday, she announced that she was given the go signal to carry her own babies, and Michelle couldn't be happier.
"Guess who was FINALLY given the go-ahead to carry my own babies? ME! Man, It's been a journey. No surrogate needed. Embryos can come out the freezer. It feels like Christmas, I've been so scared! Babies and business, LIFE AINT THAT BAD."
Although Kimberly has a son named Chase Bowman from her previous relationship, she has always expressed her desire to have a bigger family. Last year, she opened up about her plans to have children, particularly twins, with her fiance Dr. Kastan Sim. They were to welcome her kids via surrogate, after struggling to conceive for quite some time.
However, she had to focus her time on trying to remove the deadly and illegal butt injections that had internally leaked down her legs. This process included four plastic surgeries and caused her to lose a total of 25 pounds. Updating her fans about the progress of her situation, she shares:
"I'm healing up. I lost 25 pounds that my doctors are saying is mandatory to gain back for health. I'm just happy I have no more silicone in my body and I'm in physical therapy to build my muscles again."
K. Michelle had her hip and butt injections done on the black market in 2012, trusting an unregistered physician to do the process. While the first five years of her implant went well, she started to feel intense back and leg pains, migraines, and chronic fatigue in 2017 that led her to get checked by the doctor.
Although she was about to be diagnosed with lupus, it was discovered that the silicone injections she had years back started to damage the tissue in her legs which has been spreading in her lower body. This was causing the pain and discomfort that she was feeling.
Now that the singer has gone through four corrective surgeries to remove the illegal injections, she can now focus on more important things like starting her dream family with her fiancee, especially since she has been given the go signal to have kids of her own.
Please fill in your e-mail so we can share with you our top stories!