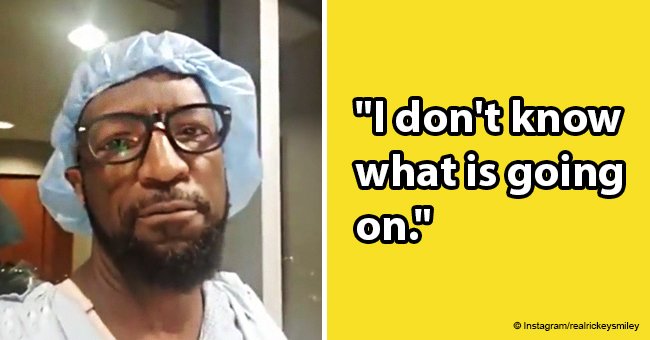 Rickey Smiley has been in the hospital for 3 days, reveals that December has been a 'rough month'
Rickey Smiley gives a video update about his "rough month" while nursing an illness in the hospital.
Rickey Smiley is in the hospital but he appears strong enough to update fans of his condition.
"I don't know what the hell is going on."
HEALTH UPDATE
Just a few hours ago, the radio personality took to social media to reveal a few things about his status while in his hospital bed.
For one thing, the 50-year-old says he was admitted last Monday. He also said he's been having a "rough, rough, rough month."
Smiley didn't go into the specifics of his illness but he appeared to be inhaling from an apparatus that helps keep lungs healthy in between speaking to fans through the video he uploaded.
"I don't know what the hell is going on, but everybody been nice. I feel better," he says.
He also reminded his fans to "listen to your doctors" then thanked them for their well-wishes.
WELL ENOUGH TO MAKE A JOKE AND LAUGH ABOUT IT
Hours later, Smiley took to his social media again. He uploaded a video of his phone conversation with a certain Ms. Janie who freaked out when he joked about doctors wanting him to start smoking reefer. The voice on the other end of the line kept screaming "no!" while Smiley had a good laugh. He was no longer inhaling from his incentive spirometer but he was still at the hospital.
Smiley's month started rough with the death of his grandfather who he told fans died a day before he was set to go on stage in New Orleans.
ANOTHER CELEBRITY HAVING A ROUGH DECEMBER
It seems it's not only Smiley who's had a rough December at the hospital. Gospel singer Donnie McClurkin was recently confined after passing out while driving and totaling his car. McClurkin survived the life-threatening incident, thanks to two angels, he said, and was released from the hospital a few days later.
Please fill in your e-mail so we can share with you our top stories!