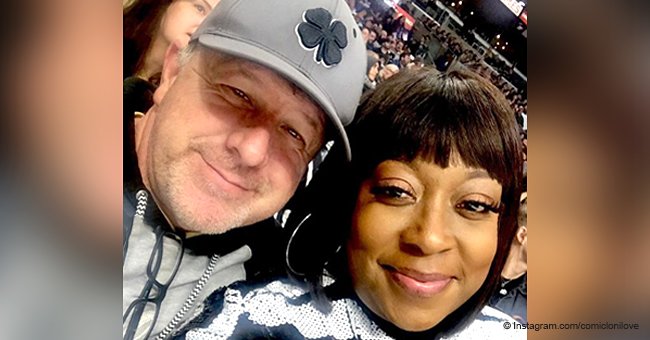 Loni Love melts hearts in sweet photo while on hockey date with new boyfriend

Loni Love shares a new photo with her boyfriend while attedning an L.A. Kings hockey game for the first time.
Loni Love's romance with James Welsh has hit another high. The talk show host recently shared a twosome selfie with her boyfriend during their hockey date.
FIRST TIME'S A CHARM
"The Kings Win!" Loni love announces in her caption accompanying a photo of her first time watching an LA Kings game. Right beside her in the snap is her boyfriend James. The selfie was part of a slideshow from the game including a photo of the scoreboard revealing a goal and a "Go Kings Go" lit up sign.
TENTH DATE
Loni's latest date in the bleachers of a hockey match proves that things are going pretty well with James. The last time she shared a photo of the two of them, she proudly announced that they were already on their tenth date.
ON BEING GHOSTED BY JAMES
Details of how Loni and James met are still unknown as the talk show host has been very careful about opening up about it. What we do know through one of Loni's co-hosts on "The Real" is that they started on shaky ground. According to Adrienne Haughton who spilled it for Loni on their show, James "ghosted" the host for two weeks after they met. Loni refused to reveal why but does it really matter at this point? They're together now at that's all that should really matter. However, Loni said that she'd rather have James come on the show to reveal the reason sometime next year.
KEEPING IT REAL
Meanwhile, Loni has been keeping things real with her fans lately by sharing more images of her time spent with her boyfriend. This is highly unusual since Loni is known to keep a low profile when it comes to her relationships. This could only mean one thing – things are going very well.
GOING NATURAL
Aside from her relationship, Loni also kept it real when she recently shared a photo of her natural hair. The wig-wearing comedian was in the salon when she took a selfie with her frizzy hair. It was one of those few times she allowed the world to see her original locks and fans loved it. One even complimented her and suggested she ditch her wigs and sport her natural do. But Loni responded by saying she uses wigs to protect her hair from the constant exposure to light and heat.
Loni has everything in control – her hair, her love life. It should be one joyful Christmas for the gushing girlfriend.
Please fill in your e-mail so we can share with you our top stories!