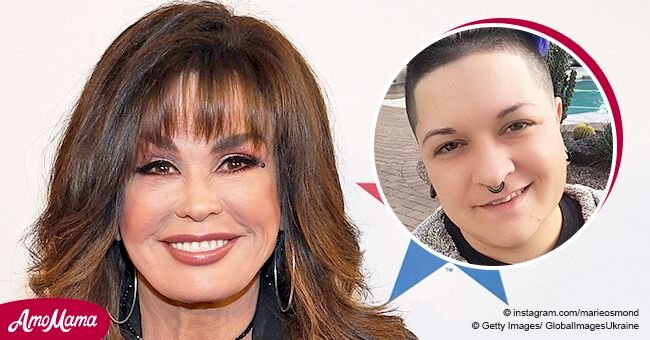 Marie Osmond shares an emotional message to her daughter Jessica in honor of her birthday

Pretty mother of eight, Marie Osmond wishes her daughter and grandson a happy belated birthday. Marie joked with her daughter; teasing her that she's two years older than her 59-year-old self. Jessica turned 31 and Marie is super happy about that.
It seems to be birthday season for the mother of eight children and grandmother of four, as she took to the gram the following day to wish her grandson Stephen Jnr a happy birthday too.
"Happy Birthday to our wonderful grandson Stephen Jr. I feel like it was just yesterday your daddy was your age! Love you so, so, so, so much!" Marie wrote.
Every day seems to be a birthday celebration with the Osmonds, and it's due to no other reason than the largeness of the family.
Marie Osmond who's married to Stephen Craig shares a son with him; 35-years-old Stephen Craig Jnr. The singer also has children from her previous marriage to Brian Blosil - Jessica 29, Rachel 29, Brandon 22, Brianna 22, Matthew 19 and Abigail 16.Marie and Brian shared a son, Micheal, whom they, unfortunately, lost to suicide in 2010.
The 59-year-old has managed to keep fit even with all the children she's had. She did struggle with weight gain at a point in her life, Marie spoke about how depressed she was during the period. According to her, she had always loved to have "a small waistline and an even smaller backside."
She credits her healthy and fit figure to NutriSystem saying:
"NutriSystem got me back on track. I've got to be honest. I was out of shape and didn't feel good. I was tired. My joints ached. My confidence was down. Like so many of you, I was unhappy about how I looked and how I felt."
Ever since joining NutriSystem several years ago, Marie Osmond lost 50lbs. Now she's on top of her game and has maintained her trim waistline over the years; showing it off on the cover of the January 7, 2019 issue of "First For Women" which she shared on her Instagram page this weekend.
The "Dancing With The Stars" star spoke about how she's minimized stress and feels excellent in her body, and has since then maintained the weight. Her days of weight loss struggle is long over; she oozes so much confidence in her trim figure just like Sherri Shepherd.
Please fill in your e-mail so we can share with you our top stories!