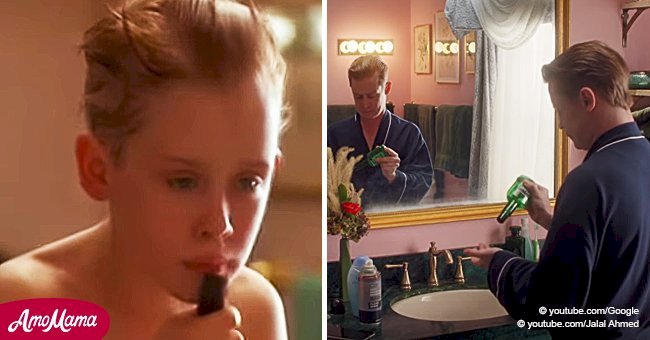 Recreation of Macaulay Culkin's best 'Home Alone' scenes will totally jog your memory
If you were a fan of Macaulay Culkin and all his shenanigans in 'Home Alone' and the sequels that followed, the chances are you will love how Culkin recreated some of his most famous scenes 30 years later.
Now 38, the actor returns as Kevin McCallister in a new commercial, reenacting scenes from the comedy classic of 1990.
Centering around Google's home assistant the advertisement begins with a shot of the sprawling McCallister home, the very same one that served as center stage for all his childhood booby traps and all manners of imagination he could bring to life.
The video is only a minute long, but it pulls you through many favored memories. Smart integration of childhood trespasses with the abilities of Google's assistant makes for an attractive conversion of fond memories and impressive capabilities.
Culkin let loose his inner child and jumped on the bed and waking up and finding himself alone in the house. The assistant puts on his favorite movie, 'Angels with Filthy Souls,' lights the fireplace, orders and pays for his pizza to be delivered, all so he can get on with enjoying his childhood likes.
When the pizza delivery man arrives, Culkin used some of the film's dialogue to talk to him, just like he had in the original movie. Also in line with the original movie, Culkin made himself comfortable in front of the television with a large bowl of ice cream, with a giant bag of treats next to him.
The advertisement refers to some of Culkin's most iconic moments that shot him to stardom when he was nine years old. During an interview with Ellen DeGeneres in April, Culkin jokingly said he goes out "less and less" around this time of year, because then 'Home Alone' is on everyone's minds.
And many others agree, that is why Fox and Ryan Reynolds have found an ingeniously flippant way of reimagining the holiday classic.
'Stoned Alone' will be produced by Ryan Reynolds for Fox, and to be directed by Augustine Frizzell from the script by Matt Mider and Kevin Burrows.
The plot will be very similar, except for one small difference. The protagonist will be a twenty-something stoner that ends up back at his house after missing the flight for his holiday ski trip.
He makes the most of his new situation by getting stoned to the state of paranoia, and become convinced someone had broken into his home.
Turning out to be the case, he goes about defending his home while paranoia chews on his high flying state of mind. No other details have been issued yet, so we will have to wait and see who will follow in Culkin's footsteps.
While making a guest appearance on The Joe Rogan Experience podcast on August 7, 2018, Culkin spoke about the relationship with his girlfriend Brenda Song.
The couple seems to be very serious about each other as they just got a cat and plan on moving in together soon if it's any indication of his feelings he gushed about their possible future:
"She's Asian, so I'm gonna have tiny little Asian babies. It's going to be adorable -- a bunch of Sean Lennon's running around the house, that's what I'm looking for."
The couple first got spotted together during a dinner date on June 2017, and later on, in October they spent some time cooing at Knott's Berry Farm.
Please fill in your e-mail so we can share with you our top stories!