Precious moment teen girl signs the lyrics of a song to her deaf dad at a rock concert
A young girl goes to a concert with her deaf father and signs the lyrics to the songs for him.
Jules Maria is a fan of the Canadian rock band Three Days Grace, and she attended one of their concerts on December 12, 2018, in Edmonton, Canada.
Maria noticed two people close to them who were annoyingly taking a lot of dance space. Then she realized what was happening. Maria later posted the clip of the incident on Facebook, where it has garnered an unbelievable 24 million views.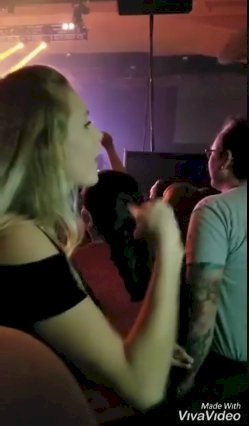 "We saw this girl and a man who seemed to require a lot of dancing room, irritating at first until we realized what was happening."
 Jules Maria, Facebook, December 12, 2018.
SHARING THE MAGIC OF MUSIC WITH HER DEAF DAD
Maria saw that the two people who were taking up so much room were communicating. The young girl was signing to the man, who was obviously deaf.
The girl, later identified as Karri Carberry, 19, was signing the lyrics of the song the band was playing to her father Darrin, 53.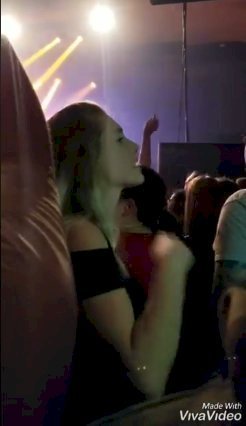 "That is amazing! The patience and love in this small snippet is enough to fill a room."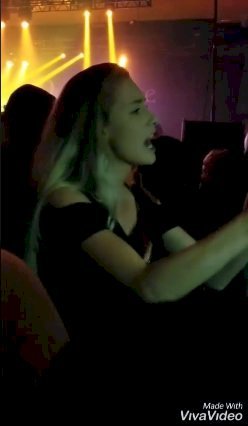 DEAF DAD IS A 'THREE DAYS GRACE' FAN
Karri revealed that her father is a Three Days Grace fan, and he had introduced her to her favorite band. 
"He is the one who got me listening to the band. When I saw they were going to be in Edmonton, my dad was the first person I asked to go with me."
Karri Carberry
MILLIONS INSPIRED BY KARRI'S ACT
Since the video was posted it has gone viral, and thousands of people from all over the world have sent Karri messages.
One of those people was Three Days Grace drummer Neil Sanderson, which will surely have thrilled Karri and her dad.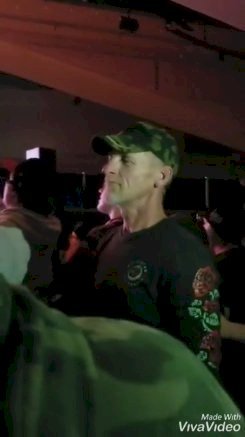 Karri's selfless dedication to her father has inspired millions of people, and the post received over 24,000 comments:
 "Daughter/ Father true love for each other...she's a beautiful young lady with a beautiful heart."
Andrew Morales
"I think it's fabulous to include her father into the music scene and not leave him out, my son is profoundly deaf and I taught him to dance he can't hear the music but can feel the vibration on the floor"
Marcelle Curry
"That is amazing! The patience and love in this small snippet is enough to fill a room."
Kay Parks
Thank you Karri, for showing the world the true meaning of love and inclusion.
Read more on Twitter Amomama USA.
BRIDE DANCED WITH HER DEAF FATHER AT HER WEDDING
Karri Carberry is not the only loving daughter with a deaf dad.
Like every other bride, Julie Finkel was looking forward to her wedding, and to the very special moment when she would share the traditional father/daughter dance with her dad.
Julie chose a poignant song by Rascal Flatts, "My Wish," and she wanted more than anything to share every word of the moving lyrics with her deaf father.
"My wish, for you, is that this life becomes all that you want it to/Your dreams stay big, your worries stay small/ You never need to carry more than you can hold."
"My Wish"  Rascal Flatts
Julie's parents were born deaf after their mothers contracted Rubella Measles in a 1964 outbreak while they were pregnant. She has been signing all her life, and she was determined that her parents would not be left out of this precious moment.
Julie recorded herself signing the lyrics, and had the video projected while she danced with her father:
"He looked absolutely shocked. He was grinning so much, and he just looked like he was in awe. At the end of the song, he couldn't keep it in anymore and he was crying."
In a related story, Kindergartner children gave a deaf custodian a touching birthday surprise and the man couldn't hold back his tears.