A mom, 53, carries her son, 7, with cerebral palsy every day because the council doesn't help
Reece, the youngest child of Mary Rogerson has cerebral palsy, which makes it impossible for him to climb stairs, so her mother has to carry him down every day in order to leave their home.
Recently, the child's 15-year-old sister Courtney Rogerson took to her Facebook account to share a heartbreaking video of her mother carrying Reece down the steps, adding to the pressure on the local authorities to do something about it.
She explained that she had to make what her family was going through public because nobody seemed to be listening to what they had to say, let along the North Lanarkshire City Council.
As reported by The Sun, the seven-year-old child has cerebral palsy and a deficiency of hydrocortisone, which affects hormones for his overall health. Reece cannot walk on his own and needs the attention of his parents and siblings 24 hours a day.
Read more on our Twitter account @amomama_usa
MOTHER FEARS NOT BEING ABLE TO CONTINUE LIFTING HIM
Mary has no alternative but to carry the child up and down two flights of stairs several times a day, so that he enters and leaves the apartment where they live.
Reece's sister Courtney decided to post the video that highlighted how difficult it is for Mary to carry her little son up the concrete steps every day.
Mary fears that when he continues to grow, she will not be able to lift him as she has done so far.
Therefore they asked the authorities for help for renovations in the building that include a stair lift.
THE COUNCIL OFFERED TO PAY 80% OF THE WORKS
However, the family says the council offered to pay £20,000 ($25,000) off the total cost, but they believe the entire £26,000 ($31,000) should be covered by the entity.
This is because they are convinced that the delays in finding a long-term housing solution for Reece has made the family use up all their savings.
Courtney affirmed that the council authorities have ignored their needs and "have made them go through hell as a family".
Reece's video has accumulated more than 100 thousand reproductions. In a recent update to her post, Courtney wrote that they would not rest until Reece obtains what is his right.
Raising a child with a disability such as Reece might be very challenging, but also will bring many teachings and joy to a family's life.
As Ellen Stumbo puts it, mothers of children with cerebral palsy only expect others to understand the needs of their little ones.
It is very important that families with disabled children receive all possible support from those around them and especially from the authorities to make their lives more comfortable.
A CIVIL EXAMPLE
Sometimes all it takes is an act of kindness and empathy from an individual to make a whole difference in the way a person with disabilities relates to his or her surroundings.
While laws around the world protect people with disabilities from exclusion by guaranteeing access and opportunities for all, there is still a lot to do when it comes to removing obstacles for people in all conditions.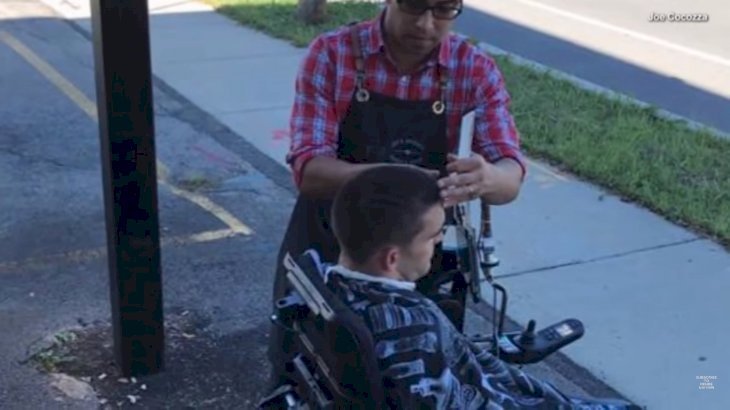 When wheelchair user asked if he could get service in a New York City barbershop and a hairstylist realized that it was impossible for this customer to get through the shop's entry, the latter knew he had to make it up for the former.
The hairstylist made a point to cut the man's hair right in front of the shop, to show others that he was as proud to cut his hair just like any other client.