Daughter can't hold back tears as dad secretly adopts dog she cared for at a shelter
An Oklahoma college student got the surprise of her life and the Christmas present of her dreams.
Hallee Fuqua loves dogs, and she has been begging her parents to get her one since she was a little girl.
When her parents told her she would have to wait until after graduation, Hallee decided to volunteer at a shelter to spend time with her beloved dogs. And that was when fate took a hand and changed her life.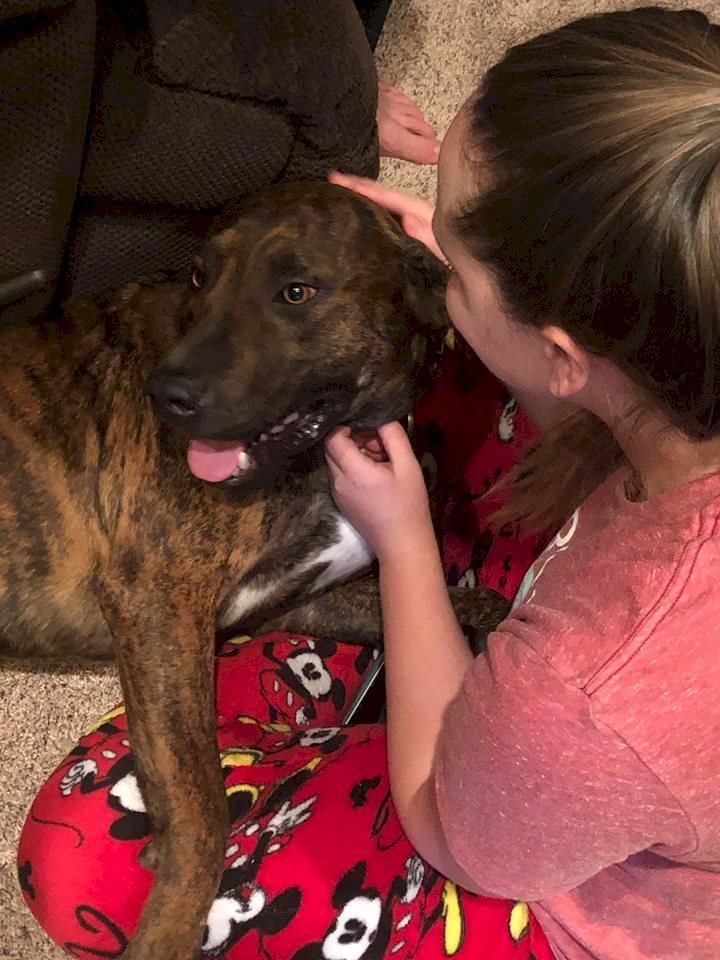 "She would come in and just sit with him. They connected from day one."
Jackie Ross-Guerrero, Shelter Director
HALLEE FEEL IN LOVE WITH A PUP CALLED RAMBO
During Thanksgiving break, Hallee worked at the Humane Society shelter, and there she met a pup named Rambo.
Rambo is a Plott Hound and Mountain Cur mix and he and Hallee bonded immediately, and she spent every spare moment she had at the shelter with the dog.
Unbeknownst to Hallee, her parents had contacted the shelter and had asked them to organize Rambo's adoption in great secrecy.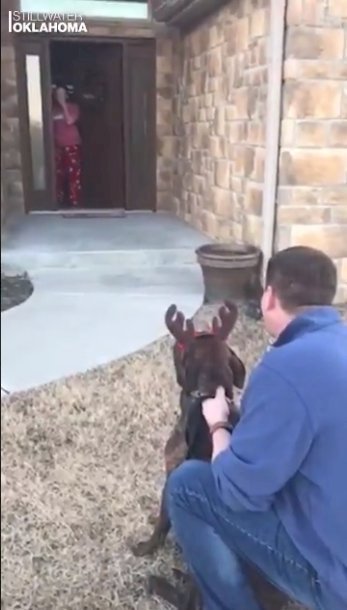 HALLEE'S BELOVED DOG WAS ADOPTED
Then over the weekend, Hallee was told that Rambo was being adopted, and that she would never see him again.
The young girl was torn between her sadness over losing her friend, and gladness that Rambo would have the home she couldn't offer him.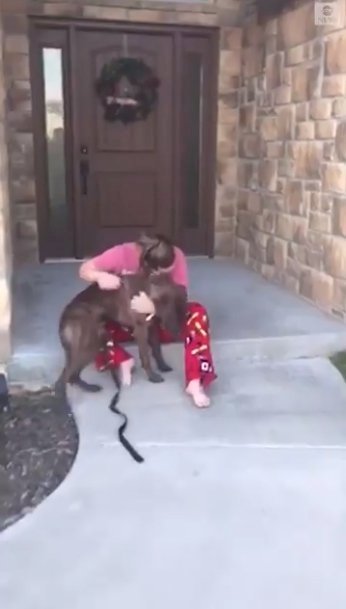 A CONSPIRACY SURROUNDING RAMBO
Unbeknownst to Hallee, her parents had contacted the shelter and had asked them to organize Rambo's adoption in great secrecy.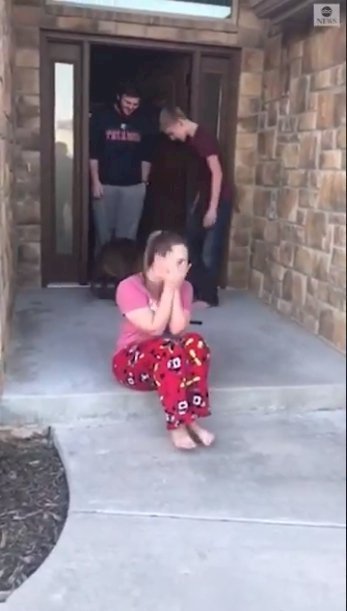 THE BEST CHRISTMAS SURPRISE EVER
Sunday morning, Hallee opened the front door to find Rambo waiting for her, with a cute pair of antlers on his head. He was her early Christmas present.
An emotional Hallee started crying as she hugged Rambo, and kept asking if it was real, if it wasn't a joke. Rambo was just as happy and excited to see her, and it looks like it's going to be a very Merry Christmas at the Fuqua home.
Read more on Twitter Amomama USA.
PUPPY SURPRISE: Christmas came early for one Oklahoma daughter whose father adopted the dog she was caring for at a shelter. https://t.co/MuDTs0e10Y pic.twitter.com/JQOTO0G7uU

— ABC News (@ABC) December 21, 2018
A MAGICIAN WORKS TO HELP SHELTER DOGS FIND A HOME
John Stessel is a magician, and like Hallee Fuqua he loves dogs, and he wants to help those animals that have been abandoned and are languishing in shelters.
Stessel performs magic for a very special audience: shelter dogs. He shows the animals a treat, which he then causes to "vanish" by sleight of hand - and the pups' reactions are priceless. 
The adorable video of their antics was posted on Facebook where it garnered over 300,000 views.
The video is a joint effort between  Stessel and the Town of Hempstead Animal Shelter director Rob Bliss. The magic show and the subsequent video are meant to show people the adorable and lively animals stuck in the shelter, eager to love and be loved by a good family.