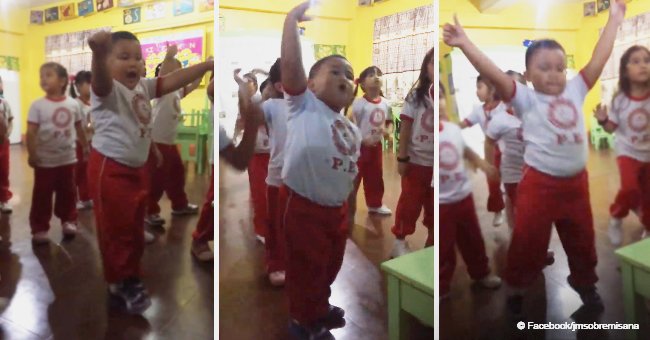 Viral video of spunky little boy performing Momoland's 'Boom Boom' dance still grabs attention
A 4-year-old Pilipino boy went viral on social media after his teacher recorded him dancing to K-pop group Momoland's hit song "Boom Boom." He nailed the choreography like a pro.
No matter f you can't understand the lyrics, k-pop songs are catchy, and there is no denying that. The vibrant colors, dances, and rhythms of most girl groups seem to be highly popular among little kids, and Momoland's "Boom Boom" was no exception.
The Philippines has one of the biggest audiences when it comes to k-pop, so is no surprise that this little boy memorized the dance of his favorite song of the moment.
Llyam Augustine Manuel, from Iloilo City, has now become a star in his town after his pre-school teacher, Joanna Sobremisana, shared to Facebook a video of the sassy little boy outshining the rest of his class with his energetic dance moves and spunky attitude.
The video has earned over 33 million views since it was posted in September, and because people couldn't get enough of Llyam's dance moves, the boy now has his own Facebook page and is continually sharing new dances with his fans.
Whether is at school or in his living room, Llyam performs as if he's in front of an audience of thousands, never missing his smile and sometimes adding his own twist to the choreographed moves.
Sally Manuel, Llyams' mom, and Iloilo City's police superintendent said her son was dancing even before he learned how to walk. The proud mom said in an interview with Smart Parenting that she didn't really pay much attention to Llyam's talent until one day they were at a fast food restaurant and he started to make his own dance to two songs.
She also explained that Llyam's former "Yaya" or nanny, used to watch tons of YouTube videos of people doing dance covers of k-pop songs, and that's how Llyam started to follow the moves and memorize them.
Llyam's official Facebook page has over 17k followers and all of his videos, including dances to some of the most popular k-pop girl bands like Blackpink and Twice, have at least 10k views, comments, and shares.
There's no doubt this 4-year-old knows what he's doing and enjoys it. He clearly has a future as a dancer.
Please fill in your e-mail so we can share with you our top stories!