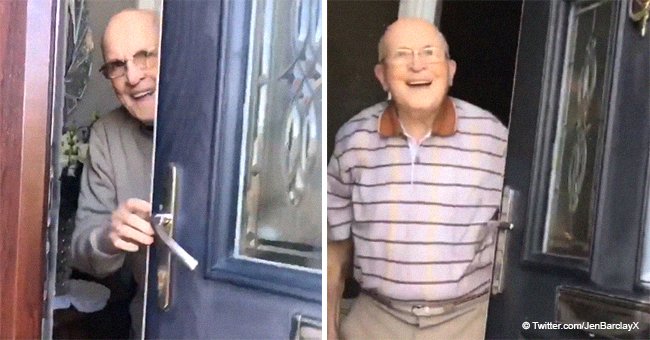 Video of student recording her grandpa's touching reaction each time she visited him is pure gold
A student recorded her grandfather's reaction every time she went to visit him for a few weeks and alter posted a compilation of the clips on Twitter. The video went viral, and the grandpa has earned a legion of fans on social media.
Jennifer Barclay, from Scotland, captured her 87-year-old grandfather Robert on video opening the door for her on 17 different occasions. And every time, the man's face showed delight and an outpour of love for his granddaughter.
Robert showed an incredible sweater collection in the 1-minute long clip, and he had a cheeky greeting for Jennifer everytime. He even asked for a password on one occasion, showing his playful nature.
In the last clip, he opens the door and says "Hello, honey bun," and for some reason, people all over the internet found those words as the ultimate proof of the real love the man has for Barclay.
The clip has gone viral with over 8.4 million of views, 621k likes and more than 5k replies from people either gushing about Mr. Robert or reminiscing about their own grandparents
"My wee Grandad, 87 years young and he's my no.1 guy. I love him with all my heart. And I love recording his reactions when I come to visit. I hope everyone can appreciate the video I've made as much as I do xoxo," Jennifer captioned her tweet.
One user wrote:
"This makes me miss my grandparents in a good way. Not to mention makes me thankful for all the times I was able to visit with them.

A grandparent's smile is a special thing. The way the light up when they see you is hard to put into words other than magical."
Another added:
"oh my gosh, this makes me so happy. My grandpa passed away not too long ago & this reminds me of him, spritely w/that cheery, cheeky smile, bright eyes behind glasses, loving it when someone he loves pops by...glad you were able to share this with us. Happy Holidays!!"
and one chimed in to compliment the grandad's wardrobe:
"Granddad didn't miss a beat with the outfits."
Because of the overwhelming reaction her video has earned, Jennifer decided to set up an Instagram account for her grandfather, where his new fans will be able to get updates from him through Jennifer.
On the account, Jennifer posted a few days ago a new video of Robert opening the door for her. This time around she went in bearing a Christmas hamper from Moonpig, a business based in London which sells personalized greeting cards, flowers and gifts.
The account, aptly named "the.grandad.diaries" has earned almost 5k followers, and people have nothing but love and admiration for Jennifer and Robert as they ask to know more about the grandpa that stole their hearts on Christmas.
Please fill in your e-mail so we can share with you our top stories!