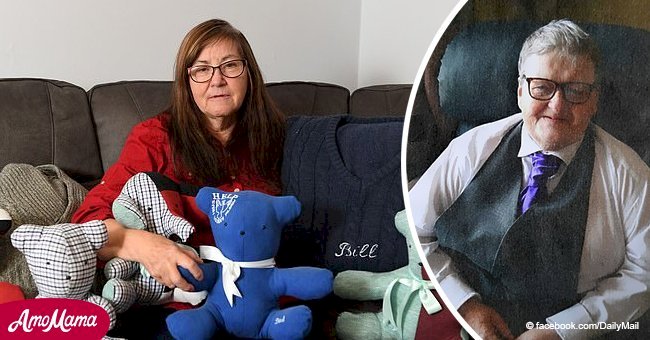 Elderly woman, 65, gifts her grandchildren stuffed toys containing her husband's ashes
The loss of a family member can be a trying time for all concerned. A grandmother recently tried to ease her grandchildren's pain after their grandfather's death in a creative way.
Beryl John, who is 65 years old, recently lost her 64-year-old husband, Bill, after he had a heart attack.
Her four daughters and three grandchildren were devastated by their loss, so Beryl decided to make them special Christmas presents so that they can overcome their sadness.
Read more on our Twitter @amomama_usa.
BILL BEARS
Beryl made her children and grandchildren each a bear out of Bill's clothes. She then sewed some of his ashes into each bear where the heart would be. These bears allow each of his descendants to have a small piece of him wherever they go.
Her two sons and one grandson do not walk away empty-handed. Her sons were each gifted a cushion with some of Bill's ashes inside and her grandson received a toy elephant with his ashes inside.

Facebook/Daily Mail
Speaking about her decision to make these items and her motivation for doing so, Beryl said:
"I wanted to do something for our children and grandchildren so they could feel close to their dad and grandad. He was so special to them, and they adored him too."

Facebook/Daily Mail
ROBBED OF REMAINS
Some people do not get to keep their loved one's remains as Beryl's family have. Clare Smallwood had her late son's ashes stolen from her house during a burglary.
The robbers took the box containing her infant son's ashes, probably because they thought it was a jewelry box.
Clare is worried that once they open the box and see there is nothing of resale value inside, they will just toss her son's ashes. She hopes that his ashes will be handed in to the police so that she can get them back.
FOREVER BEAR
Beryl is not the only person immortalizing loved ones in stuffed animals. Last year a woman inserted a clip of her husband's voice into a stuffed bear at Build-a-Bear.
Her husband of 32 years had passed away from cancer, and she wanted a way of always having him with her. Her children made the bear for her.
Build-a-Bear is one of the few places with the technology to make this experience easily accessible to the public.
Please fill in your e-mail so we can share with you our top stories!