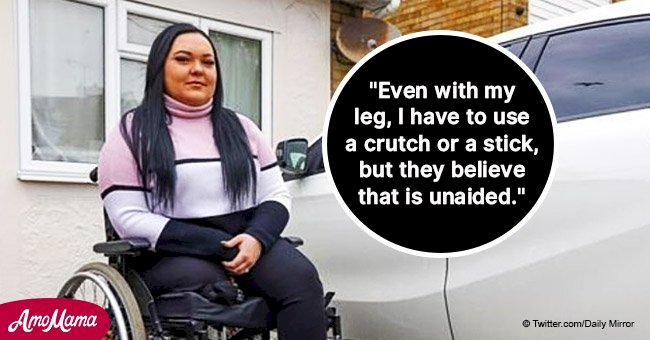 Devastated woman might lose her mobility car as she can 'walk between 20 and 50 metres unaided'
A 22-year-old woman, Bethany Bright, lost her legs in a hit and run accident shortly before her 21st birthday. Now she may lose her mobility car due to government regulations.
After the accident, Bethany spent a month in hospital followed by two months in rehab to get accustomed to her injuries and life as an amputee.
She has a prosthetic leg and crutches to assist her in walking. She also has an automatic car that is designed to cater to her specific needs, but she may soon lose this.
Read more on our Twitter @amomama_usa.
CAR RECLAIMED
Bethany received a full disability allowance due to her injuries. She received the mobility car from a charity called Motability.
However, she was recently assessed again, and her benefits have been lowered, meaning she may no longer qualify for the car and have it take away by the charity.
During the assessment, it was found that Bethany can walk between 20 and 50 m without being helped by anybody or anything.
This decision saddens Bethany who feels she may no longer be able to get around as quickly as before and that it will lower her quality of life.

Facebook/ Daily Mirror
DISABLED MOTHER LEFT BROKE
Cleo Duckett, a disabled mother from Wales, has been left bankrupt after her son, Jayden-Lee used her bank account to spend $1500 on in-game purchases in the popular video game Fortnite.
Jayden-Lee did not know what the effects of his actions would be when he was asked by the game's prompts to insert his mother's bank account details to advance in the game.
Not only was Cleo left with only $10 in her account, but she also had a large overdraft to pay back to the bank. The bank refuses to help her get the money back, claiming that it is her responsibility to look after both her son and banking details.
DISABILITY LEVELS
While Cleo still receives benefits, a disabled man by the name of Ross Ruberry recently had his taken away.
Ross was told by the authorities that he is not disabled enough to receive welfare benefits because he only has one leg amputated and has a prosthetic leg in its place.
Ross is struggling to adjust because he was previously on the highest pay rate for welfare and now has no income.
Please fill in your e-mail so we can share with you our top stories!