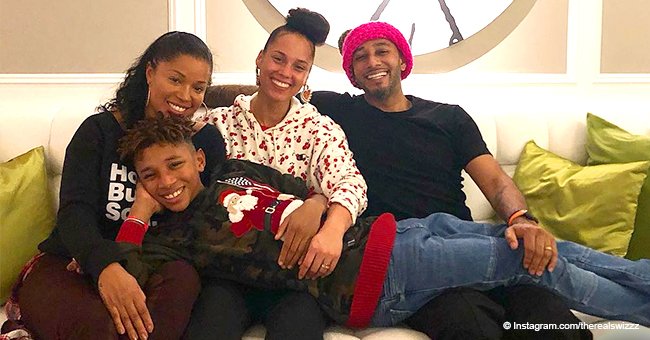 Swizz Beatz praised for photo with ex-wife, their child and wife Alicia Keys on son's birthday
Swizz Beatz, the record producer best known for being married to Alicia Keys, took to Instagram to share a photo showing his blended family.
In the post, the man appeared wearing a black ensemble with a red beanie hat on next to Alicia, who chose black leggings and a white and red hoodie. The singer sat between her husband and her husband's ex-wife, Mashonda, who is also a singer.
Mashonda and Swizz Beatz' son, Kasseem Dean Jr., was lying on their legs flashing his infectious smile. In the caption, the proud father wrote: "We all love [Kasseem Happy Birthday] KING."
PEOPLE'S REACTION
As soon as the music producer uploaded that image, his followers took to the comment section to share their thoughts. One of them pointed out that the post showed "maturity on another level."
Another one wrote: "I respect the love & understanding yall have [sic]," adding the hashtag "Healthy."
"Parents young and old please pay attention to this. When these kids are born it ain't about you no more. Put your differences to the side and be the example your children can live by. God Bless the Deans!!! [sic]," pointed out a third follower.
MASHONDA'S BOOK
Even though the blended family looks beautiful and has been praised through Instagram, things were not that simple in the past. Mashonda even wrote a book about it titled "Blend: The Secret to Co-Parenting and Creating a Balanced Family."
Mashonda and Swizz Beatz were married from 2004 to 2010, although they started living separate lives in 2008. In an interview the singer had with People, she revealed that time had a way to heal things but that people also had to heal themselves.
The lady added that her story was a sort of testimony for the book and that writing about blended families was her "divine purpose." In "Blend," Swizz Beatz wrote a chapter and Alicia created the foreword, showing just how good the family's relationship is.
"We all love [Kasseem Happy Birthday] KING."
"Blend" is mostly a guide for co-parenting based on Mashonda's own experience from her failed marriage to the struggles they have faced as a blended family.
THE TRIO PROMOTING THE BOOK
It is not the first time that the trio has made headlines for being together. Earlier this year, Alicia and posted a video together next to Mashonda and Swizz Beatz promoting the book.
One of the most important aspects that Mashonda mentioned in the book was that the biggest reason they chose to solve their issues and act maturely; the sake of the children, who were involved in the situation.
Please fill in your e-mail so we can share with you our top stories!