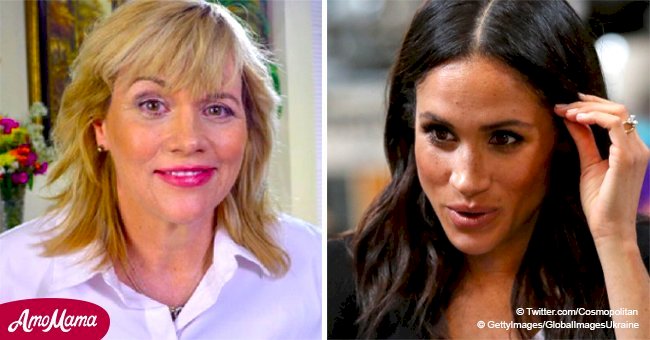 Meghan's sister reportedly pens a Christmas card begging her to give dad joy in 'his last years'
Earlier in December, Samantha Markle had nothing good to say about Meghan and Prince Harry's Christmas card.
She now followed up by a handwritten Christmas Card warning Meghan to make things right before it's too late.
Sharing her card to Meghan with the British tabloid, The Mirror, Samantha penned:
"Dear Meg, This is not meant to be formal. The holidays are a time for family and are sentimental. As you know, dad has been trying to contact you and is very hurt because you are avoiding him. Life is short, and you know dad is wonderful. Please give him joy in his last years by showing that you love him. The time is NOW. Please think about this. Your sister, Samantha."
Read more on our Twitter account @amomama_usa.
Around the same time as Meghan Markle is due to give birth to her and Prince Harry's first child in spring, Samantha's new book, "The Diary of Princess Pushy's Sister" is said to be released.
As part of sending the Christmas card she wrote to Meghan to the tabloids she also added:
"Dad could die before next Christmas. I'm hoping that won't be the case, but it would be tragic and sad if he doesn't get to be around to resolve this...I think Meg would harbor a lot of regrets if this were his last Christmas alive and she didn't reach out and make things right."
Meghan Markle broke off contact with her father, Thomas, soon after his staged paparazzi shoot close to Meghan's wedding day in May.
Thomas claimed on Monday's episode of Good Morning Britain to have been "ghosted" by Meghan.
Samantha was quick to come up for her father after Thomas told the media that he loved his daughter and wanted to hear from her, and a follower on Twitter remarked:
"Loves her so much he keeps getting his paydays with the media!"
Samantha shot back with saying that her father does not receive payments. But she would defend her father because both of them are known to have had several interviews with the media.
Even though it complicates matters, Samantha and Thomas run to the media often to fuel the very fires they expect Meghan to put out.
Samantha had been vocal and public about the family's hardships and also said during her interview with the tabloids:
"Dad has always been big about Christmas, especially when we were growing up. We would spend it as one big family unwrapping gifts, getting our hands in the pie dough, cooking the dinner together and watching Christmas shows on TV. Meg loved that stuff."
Older sister, Samantha also gave her opinion on what Meghan should be doing as she added:
"I love my sister, but I don't agree with the way she's behaving. She needs to reach out and have a peaceful, loving heart and say, 'We're a family, let's move forward and make this right.' You can't be a humanitarian on the world stage if you can't be a humanitarian in your own family."
Having something to add about Prince Harry, Samantha said:
"We all looked up to him, but he doesn't seem to care anything about this family. Whether you're royal or not, you married into our family too, and nobody is above being decent."
Sticking with keeping family problems as public, Thomas had an interview with 'Good Morning Britain' wherein he asked the Queen for her help.
For almost the entire duration of the 20-minute segment, Thomas spoke of how wronged he felt, with Meghan having not even sent him a Christmas card.
Thomas claimed Meghan refuses to speak to him and then went on to ask the Queen for help, adding that he would appreciate anything the Queen could do.
Please fill in your e-mail so we can share with you our top stories!