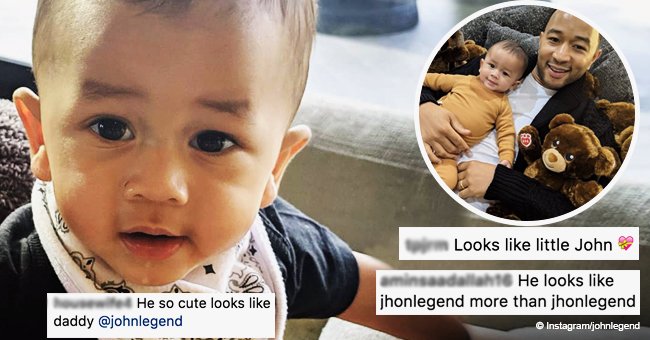 John Legend's son is the living image of his dad with a new stylish look

Singer John Legend took to Instagram to share a photo of one of his children, Miles, rocking a very handsome hairstyle.
In the post, the seven-month-old boy appeared wearing a black shirt while a white bandana was around his neck. The highlights of the image, though, were his mohawk-like hairstyle and the confident way he looked at the camera.
For the caption, the singer only wrote: "My little Miles." As soon as John uploaded that photo, his followers took to the comment section to share their thoughts.
PEOPLE'S REACTION
"He is so adorable!!! OMG John Legend's twin!!!" admitted one user.
"Adorable my lil weed Miles growing so perfectly so smart [sic]," pointed out a second follower.
"Man u guys make really cute kids. Merry Christmas and many blessings to your family [sic]," added another one.
THE COUPLE'S RELATIONSHIP
John and Chrissy Teigen have been married since September 2013, though they met each other in 2007 when the model starred in the music video of his song "Stereo." Ever since the announcement of their relationship, they became one of the most beloved couples in the entertainment industry.
On April 14, 2016, John and Chrissy welcomed to the world their first child, a girl named Luna Simone, who has proved to be the best big sister Miles could have, and Chrissy recently uploaded a clip proving so.
LUNA IN THE BIG SISTER ROLE
In the clip, both children appeared sitting on a sofa under the vigilant eye of their mother behind the camera, while Luna held a bottle to her brother's mouth. She then let it go and tried to teach her brother how to hold it up himself.
"Hold it with two hands, Miles," she said. But the baby didn't seem to be interested in the bottle, as he kept staring at his big sister and his mother with a smile on his face.
Even though Luna seems to be enjoying her big sister role, her parents were scared about her reaction to having a new baby "stealing" her parents' attention from her.
John even told Ellen DeGeneres before Miles' birth: "I don't know what to expect really, because I don't know how Luna's going to be at sharing and being a big sister. And I don't think she grasps exactly what's going to happen yet, but we'll see."
Thankfully, the girl accepted the additional member of the family in the best possible way.
Please fill in your e-mail so we can share with you our top stories!