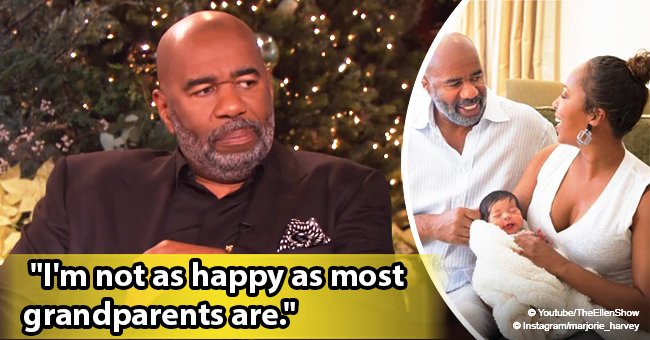 'I don't really get it,' Steve Harvey gets honest why he doesn't exactly enjoy being a grandpa
Steve Harvey recently visited "The Ellen DeGeneres Show" and, among other things, he revealed how he truly feels about being a grandfather. The seasoned host recently welcomed his 5th grandchild, but he says the baby has to gain "head control" to play with him.
Steve Harvey is always a treasure to watch whenever he visits DeGeneres on her show. He can make the audience laugh effortlessly with his crazy stories and honest comments about basically everything. And his most recent visit was no exception.
The 61-year-old revealed that since he grew his grey beard, he has become "smarter," adding that his grandkids are always testing him on different stuff. Then he added, "You know, I'm not as happy as most grandparents are. I don't really get it."
"I want to be an empty nester. Now they come back to the house, and they got some more people with them."
A surprised Ellen then said she thought Steve had fun being a grandfather because the kids visit for a short time and then go back home to their parents. However, Harvey revealed that his wife, Marjorie Harvey, really enjoys "this grandparenting thing," so she does things a bit different and allows the kids to stay over at their home.
"I told her, that's not how this is supposed to work. They're supposed to come over and then go home. When they spend the night, I don't…" he said, cutting himself off to talk about a photo showed on the screen behind them.
THE TIEBREAKER BABY
The pic depicted Steve and Marjorie gushing over their youngest grandkid, 3-months-old Ezra, who is the third child of Marjorie's son Jason and his wife, Amanda. However, when asked by Ellen how old is Ezra, Steve claimed: "I have no idea."
And added,
"I haven't played with him yet. I don't like them when they don't have head control. I don't like playing with kids with no head control. Hold your head — hold your damn head up, boy! You got to put them two fingers back there, and then it slides off. You feel responsible for them."
Steve did reveal that little Ezra was the tiebreaker, and now they have three grandsons, Ezra, Noah and Benjamin, and two granddaughters, Rose and Elle.
Is not the first time that the host and comedian complains about being a grandfather. Back in September, after announcing Ezra's arrival, he went on a rant on his talk show "Steve" about why kids are the biggest "blockers" in his relationship with Marjorie.
"I've been waiting years for my kids to get out of my house," he said.
"I want to be an empty nester. Now they come back to the house, and they got some more people with them. They always bring them over and drop them off. And I'm going 'Now, I been talking to my girl all day long. All we been talking about was what was going to happen tonight. Then, I get to the house and here they is![sic]"
A DOTTING GRANDFATHER
But despite his jokes about being a grandfather and how serious he looks about it, Harvey has proved several times how much he enjoys spending time with his grandkids, even if he doesn't like to admit it.
When Ezra was born, Marjorie melted hearts sharing a video of the cute grandpa rocking the baby on a chair and talking to him, even if he didn't have "head control" yet. The same thing happened when baby Rose was born, and he even revealed on "Today" how happy he was taking on his grandad duties with the girl.
And even though he didn't know any complete nursery rhymes, Harvey made it work for Rose by creating a remix of several songs. "She looked confused," he said.
Harvey might be rough on his way of showing love, but he makes sure his grandkids stay happy, even if that requires paying for an $8,500 teepee, as he revealed on Ellen earlier this year.
MAKING THE KIDS HAPPY NO MATTER THE PRIZE
Reminiscing about 2017 Halloween, Harvey said he was surprised when his wife turned their backyard into a carnival with a petting zoo included to celebrate Halloween (this year she turned it into an amusement park), and a 16-foot high teepee was included. So, the next day after the part was over, a man started to remove the teepee, but the kids were mad about it and started screaming.
To calm them down, Harvey asked the worker to stop removing the teepee in front of the kids and do something else, but half an hour later, the same thing happened. Steve ended up buying the teepee for $8,500 to make his kids happy.
But in a twist of events, he revealed that when the kids around in the house, the teepee becomes a "cigar lounge" where he relaxes by himself while smoking.
Steve is undoubtedly a cool grandpa, and even though the kids might interrupt his private time with Marjorie, he glows whenever he's with them.
Please fill in your e-mail so we can share with you our top stories!