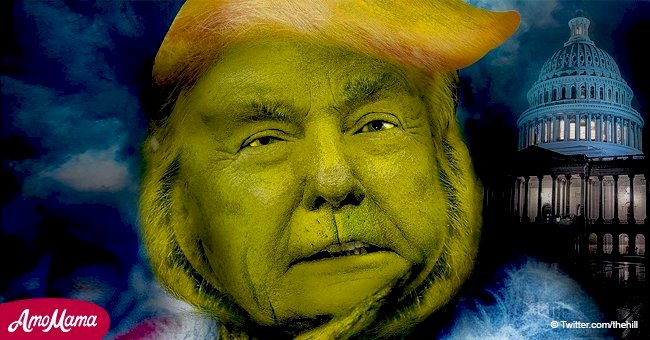 NY Daily News turned President Trump into Grinch for their new cover
New York Daily News used a picture of Trump depicted as the Grinch to dominate its Saturday front page with the headline, 'How the Trump stole Christmas,' - this is in reaction to the total shudown of the US federal government earlier this month.
The tabloid on its Saturday edition prominently depicted President Donald Trump as the fictional character created by Dr. Seuss, the Grinch.
Follow us on our Twitter account @amomama_usa to learn more
Of course, this attempt at a joke was received with mixed reviews by the media. While some thought it was funny and might even depict the President well, others do not find it funny.
They also tweeted the picture with verses from the children's book. The accompanying cover story dwelt on Trump's refusal to endorse a new spending bill; leaving out provisions for his proposed border wall with Mexico. The shutdown took effect from midnight on Saturday - it was said to complicate the lives of about 800,000 federal workers.
The House had previously passed a bill that provided for Trump's wall, but this bill didn't gain traction in the Senate with the 49 Democrat Senators unanimously voting against it. While trying to put an end to the crisis, the Senate passed a stop-gap bill.
The plan was that the government would continue functioning at the present cost until February, but Trump refused to sign.
Without any agreement, a number of departments, including Treasury, Agriculture and Homeland Security, as well as several agencies ran out of funds and are set to shutter.
While talking to reporters, Trump blamed the Democrats for the shutdown and asserted that he was prepared for an extended closure. The newspaper referred to the whole fiasco as 'a Christmas tragedy.'
The Saturday front cover isn't the first time the newspaper has sparked contoversy by mocking President Trump.Previously, the president has been depicted to have driven the automobile companym General Motors (GM) off a cliff. This jibe was aimed at addressing GM's announcement last month; the company relieved 14,000 people of their jobs and closed up to 5 plants.
Much earlier in the year, the newspaper also mocked Trump, depicting him as being overly soft when handling issues involving the Russian president, Vladimir Putin.
Trump was criticized for inviting Putin to the White House for a second summit. Despite the criticisms and uproar from both sides of the party, Trump was unfazed and tweeted:
It would seem that the newspaper dispenses with kid gloves when reacting to Trump's actions.
Please fill in your e-mail so we can share with you our top stories!