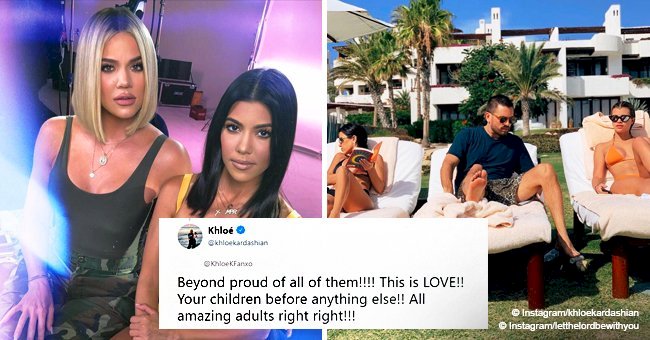 Khloé Kardashian praises Kourtney, ex Scott Disick & his girlfriend as they all vacation together

Kourtney Kardashian and her three kids joined her ex-Scott Disick and his girlfriend Sofia Richie on vacation this year. Khloe Kardashian has praised her sister for putting her children's needs before her pride in a tweet, shown below.
Scott Disick, 35, his current girlfriend Sophia Richie, 20, and his ex-girlfriend, and mother of his three children, Kourtney Kardashian, 39, made a bold move this year. They decided to spoil the kids by taking a joint vacation in Cancun, Mexico.
Kourtney, Scott, and Sofia want to create a stable and blended family situation for the children. They are reportedly are working hard to avoid any conflict and make it work
So far everything seems to be running smoothly amongst the trio. Their success has not gone unnoticed.
Fans have taken to the comments section to commend their efforts. One fan tweeted, "This is co-parenting done right!!"
Kourtney's sister Khloe took to Twitter to reply to the doting fan. She openly shared her thoughts on the situation.

Twitter/Khloe Kardashian/
In a heartfelt tweet on Saturday Khloe wrote, "Beyond proud of all of them!!!! This is LOVE!! Your children before anything else!! All amazing adults right right!!!"
Kourtney and Scott split in July 2015 after dating each other for years. They share three children, Mason, nine, Penelope, six, and Reign, four.
She has stated on more than one occasion that she is "over the drama" with Scott Disick. So the family vacation is definitely a step in the right direction for the pair.
In recent pics, the whole family appears to be enjoying their sunny beach break. Both women wore stunning and revealing bikinis while sitting on either side of Scott.
They relaxed and chatted easily while they watched the children playing in the sand. When Scott moved, Sofia shuffled on to his recliner as she and Kourtney looked at something on a phone.
"Your children before anything else!! All amazing adults right right!!!"
Scott and the daughter of Lionel Richie, Sophia have had an on-again-off-again relationship this year. However, it appears their relationship is stronger now and they are working hard to stay a part of his children's lives.
Please fill in your e-mail so we can share with you our top stories!