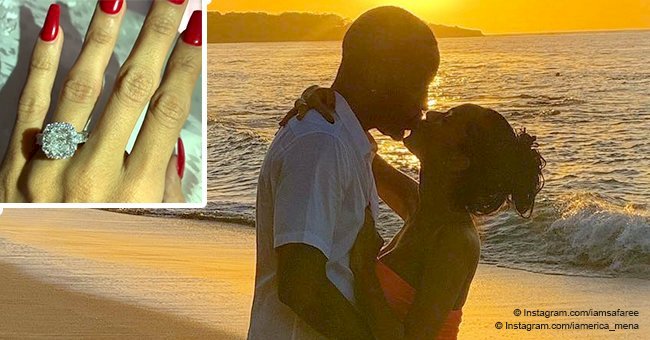 Safaree proposes to his girlfriend Erica Mena with a custom-made 14-carat platinum ring

Safaree Samuels has proposed to his girlfriend, Erica Mena, with a custom-made ring that has Erica calling him a "King."
The "Love & Hip Hop" reality stars officially became an engaged couple on Christmas Eve when Safaree went down on one knee in an elaborate affair at Erica's home.
The rapper, who dated Nicki Minaj for ten years, started dating Mena earlier this year and is now ready to take the big step.
An Instagram video of the Monday night proposal showed Erica walking up a candlelit aisle in a glamorous white dress. Safaree reportedly ordered the 200 candles, and 10,000 rose petals to decorate her Atlanta home, and the occasion was graced by a group of their close friends and family.
When the former model reached the end of the aisle, Safaree whipped out the engagement ring and got on his knees to ask the all-important question.
Serenaded by the R&B group 112 belting out lyrics from "Cupid" and "Crazy Over You," Erica got emotional and asked "Are you serious?" before finally saying: "Yes."
The 31-year-old finally took to Instagram on Christmas day to show off her huge rock and gush over her fiancé.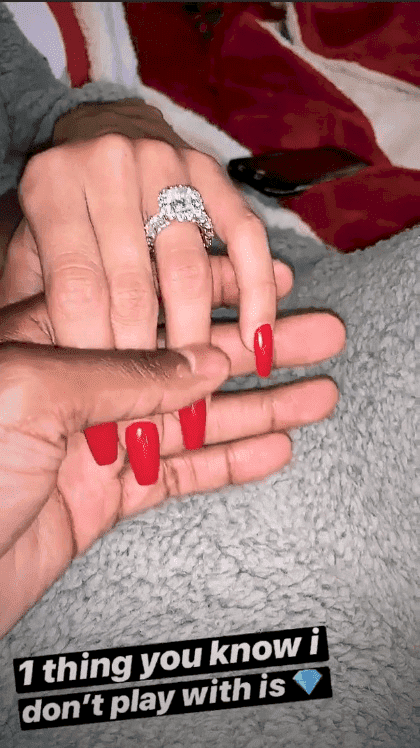 Instagram/iamsafaree stories
Alongside a video of her manicured hand wearing the ring, Erica wrote:
"I'm absolutely the luckiest woman in the world. A Man who has never been afraid to love me. A MAN who has been here and knows everything I been through. Everything before this- It no longer matters. Wedding date set."
She further revealed that her 14-carat platinum ring was created from scratch by her man in partnership with celebrity jeweler Trax NYC.
"14CTS in Asscher cut Russian cut and a cushion cut center stone diamond," she wrote. "Every single detail was @iamsafaree idea. You truly are a KING."
Safaree also gave fans some insight into how much work went into the creation of his fiancée's engagement ring. In an Instagram post, the New York native disclosed that he had been designing the ring, estimated to cost almost $175,000, since Erica's birthday (November 8). He even went as far as sneaking rings on her finger while she was asleep to get the correct size.
"I would never just go to a store and pick out a ring," said Safaree, 37, in a video on Trax NYC Instagram's page. "We designed this from a drawing to the computer, to shopping three weeks just for the center stone, and the side stones, the pointers, the carats."
The engagement is a great way to round off the year for feisty Erica who was arrested on charges of drug possession in October. As her new fiancé promised:
"I plan on being the Best Husband ever put on this earth!"
Congratulations to Erica and Safaree.
Please fill in your e-mail so we can share with you our top stories!