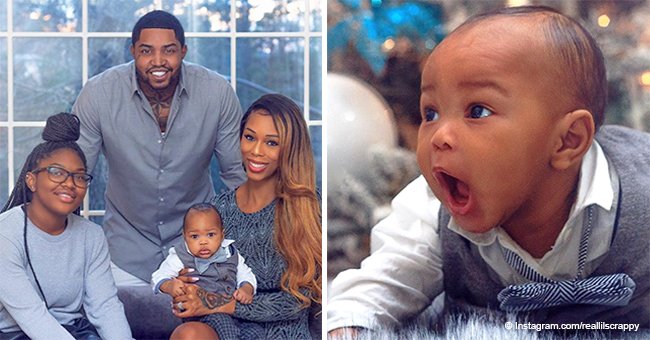 Lil Scrappy's baby son rocks vest and bowtie in recent pictures with his parents and big sister
Rapper Lil Scrappy, best known for "Love & Hip-Hop Atlanta," took to Instagram to share a slideshow showing his family on Christmas. The baby boy attracted a lot of attention.
In the first image, the rapper posed with his daughter Emani and son Breland wearing all grey ensembles. Emani, his daughter from a past relationship, was flashing her beautiful smile at the camera while standing behind her father.
Lil Scrappy was sitting in front of her while holding Breland on his lap. The baby's outfit was the highlight of the slideshow as he was wearing a little suit and a bowtie that made him look like a grown person.
THE REST OF THE PHOTOS
The second pic portrayed the baby lying on what appeared to be a carpet a couple of steps away from a Christmas tree. His mouth was wide open as if he was surprised about something in front of him.
In the third and final image, the rapper, his children, and his wife Bambi Benson posed together in what was labeled by many as a loving Christmas card.
For the caption, Lil Scrappy set clear that he always wanted to have a family of his own, and that now he has one, adding the hashtag "The Richardsons" (his real name is Darryl Richardson).
PEOPLE'S REACTION
As soon as he uploaded that slideshow, his followers took to the comment section to share their thoughts.
"He is definitely mommy's twin!" one user commented.
"Aww you look so happy beautiful pic Emani got big," added a second follower.
"Nice picture you and your children and wish you a very special Christmas and many more to come. ENJOY," wrote another one.
LIL SCRAPPY'S BACKLASH
While the rapper and his family probably spent a very good Christmas, a video that he uploaded earlier this month attracted some negative response from some of his followers. It showed Breland tucked in the arm of a White Santa Claus at the mall.
The little man looked cute in a Burberry-print outfit and knitted booties, and while many people admitted that it was a beautiful photo, some others were angry because the rapper couldn't find a Black Santa for his son.
One of the users even said that Black families should not believe in "made-up, fairy tale characters that don't exist" and that they should celebrate something from their culture.
Neither Bambi nor Lil Scrappy has responded to those comments yet, and everything suggests that they would not do so as they have been busy enjoying their lives with their baby son since he was born on September 21.
At the moment, the rapper is focused on "Love & Hip-Hop: Atlanta," as well as his career as a musician and his family.
Please fill in your e-mail so we can share with you our top stories!