Prince Harry ruined Christmas tradition of kissing 71-year-old fan this year
Prince Harry was a perfect gentleman when he took his wife into consideration at Christmas mass. 
The Duke of Sussex attended the traditional Christmas service at the church on the family's Norfolk estate.
Along with the mass, Harry also received a traditional invite to get a kiss from a 71-year-old fan. Pictures are found below.
Follow us on Twitter for more @amomama. 
No signs of any animosity as The Duchess of Cambridge and The Duchess of Sussex put on a united front as they arrive at #Sandringham Church for #Christmas service #Royals @ShutterstockNow pic.twitter.com/ZVGRafc4BR

— Rookie (@royalfocus1) December 25, 2018
The retired seamstress named Jill Lee first gave the Prince a peck a few years ago and she's been doing it ever since, according to Mirror UK.
However, on Tuesday Harry took Meghan Markle into account and broke the annual kissing practice. Lee, who resides in Cambridge, later spoke to the media.
Merry Christmas!

The Duke and Duchess of Cambridge and The Duke and Duchess of Sussex join The Queen and Members of the @RoyalFamily at the Christmas morning service at Sandringham Church. pic.twitter.com/KW7oOnshAx

— The Duke and Duchess of Cambridge (@KensingtonRoyal) December 25, 2018
She said: 
"I said to Harry 'I can't kiss you this year, can I?" and he said 'no' and pointed to his wife." 
The older lady was also treated to a short conversation with Kate Middleton.
She related: 
"I said to Kate 'were the children up early' and she said 'very early, but it was lovely to see their faces'."
Her Majesty was joined by several members of the Royal Family.
Thank you to everyone who came to say hello – and Merry Christmas! #Christmas2018 pic.twitter.com/LWESijppzL

— The Royal Family (@RoyalFamily) December 25, 2018
Other faces we saw at the Christmas services was Prince William, the Queen herself, and Duke and Duchess of Cambridge's children. 
Peter Phillips and his wife Autumn Phillips were also there. Their daughters Savannah and Isla, as well as Princess Beatrice, also showed.
Prince Philip, 97, and Duchess of Cornwall miss Christmas Day church service https://t.co/JKpb74VUro pic.twitter.com/UaGDSnS3n2

— HELLO! (@hellomag) December 25, 2018
Missing were the Duke of Edinburgh and the Duchess of Cornwall. Not lacking was the fashion among the fabulous four on the occasion.
Markle wore a black tailored coat priced at £2,250. She matched with a black dress, black boots and a black Victoria Beckham handbag priced £1,200. 
Kate Middleton, Meghan Markle and royal family join the Queen at Christmas Day church service – all the photos https://t.co/bXYJrkpF0f pic.twitter.com/95DMqhAVKe

— HELLO! (@hellomag) December 25, 2018
Harry wore similar colors with navy undertones and a light shirt underneath his coat. The pair walked hand-in-hand at the festivities. 
However, it looks like the two won't be able to get too intimate on Christmas morning. As per royal tradition, couples will be served breakfast in different areas of the home.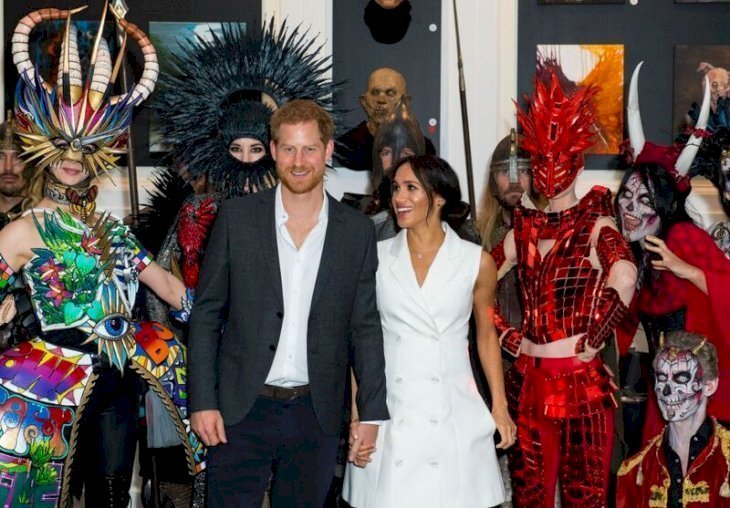 The royal wives should expect breakfast in bed at 9 a.m. The men, on the other hand, are to go down to the dining room for a larger meal to start the day. 
The long-time tradition is not strict and allows for women to join the men if they want a bit more in their belly. 
As for Harry refusing to kiss the older woman, we're sure Markle appreciated the gesture as much as she appreciated the Christmas food.