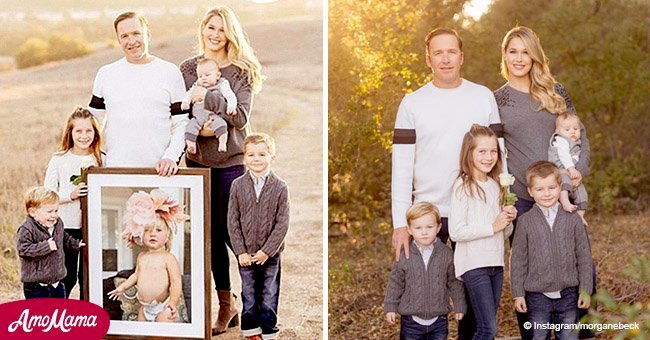 Bode Miller and wife share holiday photo in touching tribute to their late daughter

Olympian Bode Miller and his wife Morgan, together with their four children posed for a series of holiday photos as a tribute to their late daughter.
It is the family's first Christmas after losing their 19-month-old daughter after she drowned in a neighbor's pool in June this year.
As a caption to the family pictures taken by photographer Rich Lander, Morgan wrote a touching tribute to little Emeline:
"Merry Christmas to our baby girl in heaven. We miss you so much!"
While at a neighbor's house on June 9 in the Coto de Caza neighborhood of Orange County, California, Emeline disappeared for a brief time and drowned in their pool. Morgan was only a few steps away inside the house when the accidental drowning occurred.
Read more on our Twitter account @amomama_usa.
When she noticed her daughter's absence, Morgan saw the door leading to the backyard slightly ajar, and her blood ran cold. She opened the door and saw Emeline floating in the pool.
Emeline died in hospital the following day after her brain got deprived of oxygen too long. Pregnant at the time, she reluctantly went for a checkup five days later to make sure all is well with her unborn son, but after the fact she was grateful that she did.
Initially, Morgan did not want a 3D image of her son, but the technician took one anyway. When she saw the ultrasound images her heart leaped as she explained what the pictures showed:
"He looked so much like my other babies, just like Bode with that sweet nose and those full lips. But as quickly as I saw this new baby, my eyes moved to the angel lying to the right of his face, holding him, arms around his neck. Almost as if to say, 'It's okay. I'm here.'''
The couple welcomed their son on October 5, and although the ultrasound image helped them in processing the tragedy, they were still heartbroken at the finality of their loss.
In sharing their grief, it has helped the Miller's in their process of healing but hope that it might prevent the same thing happening to other parents.
As part of the captioned tribute to their daughter, Morgan added:
"2018 has been a year full of overwhelming sadness and overwhelming joy. We have spent half of the year mourning and attempting to heal the loss of our angel which feels like an impossible battle all while celebrating the birth of our son."
A short three months after the accidental death of Emeline, Bode posted a picture of him and his 3-year-old son Nash as they played in the pool. The photo shows little Nash jumping towards his dad Bode waiting inside the pool with outstretched arms.
While it must bring back some painful memories, Bode knows his other children deserve to enjoy some fun playtime with Dad, trying to keep things as normal as possible for them.
Bode captioned the sweet image:
"Catching Nash celebrating the beginning of school."
May the year 2019 bring the Miller family healing and much joy.
Please fill in your e-mail so we can share with you our top stories!