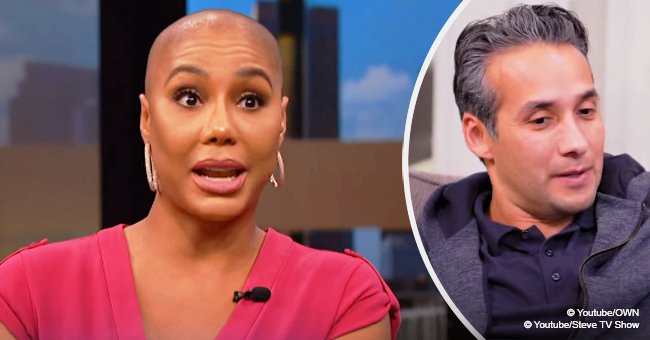 Tamar Braxton claps back after getting dragged for ignoring Trina Braxton's ex-husband's death
Tamar Braxton unleashed her ire at haters who judged her actions in the wake of her former brother-in-law's death.
It's Christmas but instead of enjoying a relaxing vacation with her family, Tamar Braxton had to defend herself from another round of punches.
GETTING SLAMMED
The singer was accused by internet trolls of being unsympathetic towards her sister Trina Braxton and her family after the death of her ex-husband, Gabe Solis. So she fired back to set the record straight.
Tamar was on vacation with her new boyfriend and her son, Logan but it didn't go as well as she imagined it to be. While lounging around by the water before Christmas, she took to her Instagram to address the issue that emerged after she posted a video promoting Fashion Nova around the time news broke of Gabe's death.
FIGHTING BACK
In her Instagram story on December 23, Tamar clapped back at her critics who judged her for being insensitive and thinking only about herself during Trina's mourning period. She wrote,
"Gabe was not my husband. Why would I post an ad on a RIP?? It was a joke between us and also his family asked if we didn't post pictures!! I don't understand why I'm being dragged??! Hold me accountable for my own nigga [how bout that]!!"
Tamar was clearly infuriated and her response on her Instagram story wasn't enough to calm her down. So she continued to blast her haters in a separate post explaining what actually happened and why she shouldn't be blamed for her apparent lack of sympathy.
"There is NO RESPECT when it comes to social media. I don't believe it was designed for people to have a platform to bully, say what they want, to create mess, or speak against you or to control your destiny.
"I'm trying things a little bit differently these days. So me posting about @gabe_solis1234 death BEFORE Trina and her asking that we keep it private for his family's sake would have been in bad taste and also going against my sisters trust.
"I'm on vacation and we heard about the news shortly before you all did. I myself found out he was sick just 3weeks ago. NO ONE expected this!!!"
THE DEATH OF HER BROTHER-IN-LAW
News of Gabe's untimely death broke when Trina posted a heartfelt tribute for him on her Instagram. She also expressed her sadness and regret over how his family learned about his passing. Gabe had been battling cancer for quite some time without his family knowing and when he died, some of his close relatives were not yet well-informed when news was leaked to the media.
Trina and Gabe were married for 12 years before they separated in 2015. They share two sons and remained friends even after they parted ways. Earlier this year, they appeared in an episode of "Iyanla: Fix My Life" to iron out their issues so they could move on peacefully from each other. Sadly, the couple lost the chance to be better friends and co-parents.
Please fill in your e-mail so we can share with you our top stories!