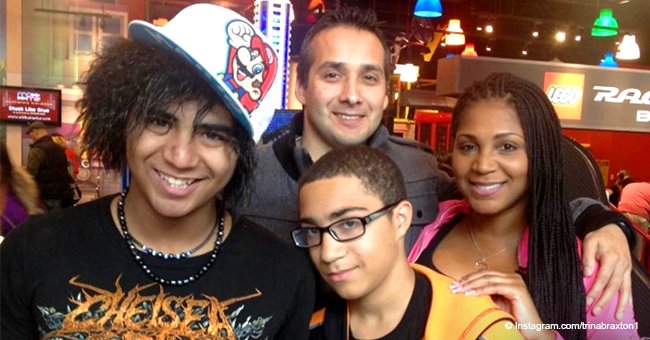 Trina Braxton shares heartbreaking tribute to ex-husband & father of her sons after he died at 43

Trina Braxton shares sad news about the death of her ex-husband in a special tribute on Instagram. She also revealed her regret over the leakage of his death to media before family members learned about it.
Trina Braxton and her sons are in mourning over the death of her ex-husband, Gabe Solis. She revealed this in an Instagram post along with her regret that news about Solis' passing reached media outlets before family members learned about it.
TRINA'S HEARTBREAKING MESSAGE
Braxton wrote a long caption to accompany a photo of her with Solis and their two sons. She began with the announcement of the sad news.
"On December 20, 2018, a chapter permanently closed for my sons and I. For over 16 years, Gabe Solis was an essential part of our lives. Like all families, there are good and bad moments that are endured, but those moments, good or bad still made us who we are in the present."
Moreover, Braxton expressed her dismay over the untimely leaking of the news and apologized to friends and family who only learned of it through media.
"Unfortunately, someone leaked the story before we could make everyone aware of his passing, and I apologize to those friends and family members for finding out through social outlets. I also apologize directly to the Solis Family."
She further asked for fans' sensitivity in posting comments during this trying time.
"I do humbly ask for your prayers for our families, but my greatest request is that when you are posting comments, remember Gabe's passing is a loss for our family. He was a father to my boys, a son, brother, and friend to many and I would appreciate privacy and respect as we grieve his unexpected departure. @gabe_solis1234 I miss you, my dear friend."
The singer didn't divulge the reason for Solis' death but TMZ reported the 43-year-old died of cancer with only a few aware of his illness.
LIFE WITH SOLIS
Braxton and Solis were married for 12 years from 2003 to 2015. Despite being divorced, they remained connected through their sons and the singer's family show, "Braxton Family Values."
Earlier this year, they appeared together in an episode of "Iyanla: Fix My Life" where they tried to dissect their issues in an attempt to move on from each other. In the episode, Solis attributed his problem in their marriage to his ex-wife's verbal abuse and bullying.
A NEW MAN IN HER LIFE
Braxton may be keeping Solis close to her heart but she has moved on with a new boyfriend. In September, she publicly revealed him when they appeared on the red carpet during a screening together. This month, she was kissing him on a flight in a photo on Instagram. The man's name is Vaughn and they met through a mutual friend.
Please fill in your e-mail so we can share with you our top stories!