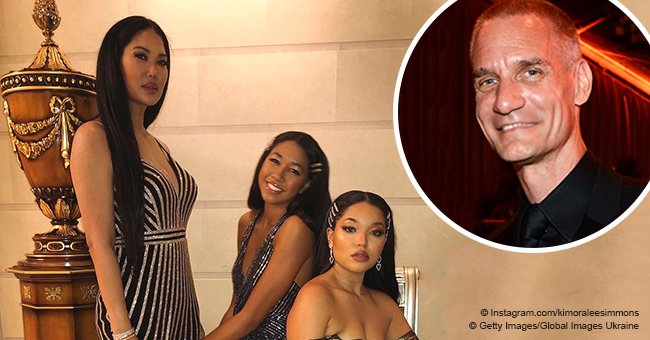 Kimora Lee Simmons shares pic of daughters in stunning dresses amid husband's money-laundering case

Despite her husband facing a billion-dollar money laundering case, Kimora Lee Simmons and her two daughters continued to celebrate Christmas in style, sporting gorgeous sparkling dresses for the holiday.
Last month, Kimora Lee Simmons' husband Tim Leissner was subpoenaed by the US Justice Department after money amounting to billions of dollars went missing from a Malaysian government wealth fund. The amount was supposed to be used to bolster the country's economy.
Leissner, who was the former chairman of Goldman Sachs' Southeast Asian business until 2016, raised the money for the fund with his business partners, Roger Ng Chong Hwa and Jho Low. After the US Justice Department found out about the anomalies, Leissner accepted a plea deal and agreed to pay back $47 million of the money he earned from the laundering scheme. However, he reportedly used the rest of the money to fund the movie "Wolf of Wall Street", purchase properties, luxury yachts, Birkin bags, jewelry, expensive artwork, and even a piano for model Miranda Kerr.
The country filed criminal charges against Leissner, and are still seeking fines from Sachs. Meanwhile, Leonardo di Caprio, the star of the "Wolf of Wall Street" movie cooperated by giving back the gifts he received from the executive.
Now, Leissner has pled guilty of the charges and can face up to ten years in prison for his crimes.
Meanwhile, his wife Kimora Lee Simmons has been going on with her life, as usual, celebrating Christmas with her two daughters wearing luxurious dresses. She and her two daughters flaunted their stunning physiques in sparkling dresses, much to the amusement of their fans.
They proceeded to compliment the girls on social media, without bringing up the trouble that their patriarch, Tim, has been going through. Instead, they focused on greeting them a very merry Christmas and told them just how stunning they looked.
Kimora has yet to speak up about her husband's current criminal cases, but with the rate she's been going on social media, it seems as if a statement is far from what she plans to do at the moment.
Please fill in your e-mail so we can share with you our top stories!