6-year-old boy caught cheating while doing homework with Amazon technology
On December 21, a New Jersey mother Yerelyn Cueva caught her son cheating while doing his math homework at their kitchen table. The 6-year-old boy used Alexa to get answers for his mathematics sums.
Cueva recorded the moment and posted it on Twitter and the short video has since gone viral.
Yerelyn Cueva, 24, caught her son Jariel, 6, asking Amazon Echo's artificial intelligence (AI), "Alexa, what's five minus three?" She witnessed Alexa giving her son the answer to the mathematics sum before she quickly burst into the room to confront him.
Her viral 11-second clip has since received more than 8.2 million views. Explaining the incident, Cueva said, "It was just any regular day of doing homework."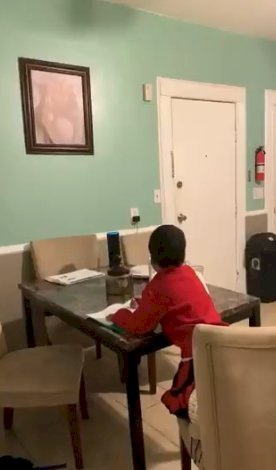 For more on this story go to our Twitter account @amomama_usa. She revealed:
"I'm in the living room, and I overheard him asking Alexa some math problems, and I could not believe it! What you don't see is after he says, 'Thank you Alexa for helping me with my homework.'"
In her Twitter post of the clip, the boy's mother asked, "Lmfao should i whoop him now or later." Jariel's mother shared that the device has only been in their Paterson home for one week before the little boy started using it to cheat on his first-grade, winter break homework assignment.
Merry Christmas from me & the young legend himself ❤️ pic.twitter.com/JulUov4Ssi

— Yerelyn (@spanishbarbie22) December 25, 2018
The boy's mother explained that she didn't know why her son was using the AI in the first place. She said:
"The funny thing is that math is actually his favorite subject. I was surprised because he knows this stuff. He was just being lazy. Taking a shortcut."
When your son stands out and is the class clown 😂😂 pic.twitter.com/G5FvnOCt98

— Yerelyn (@spanishbarbie22) December 29, 2017
Describing how her son usually fared with his schoolwork, Cueva stated: "He always asks different questions than the other kids, and has always been very mature mentally." Talking about how she'd handle the situation for future reference she revealed, "I'm probably going to have to turn it off so he doesn't just keep on cheating."
reward that man for being a young genius and finesser

— ໊ (@timthetoolmann) December 21, 2018
Another woman found a different use for Alexa when she suspected her boyfriend was cheating on her. She tried confronting him several times but he denied it and made her feel paranoid.
He working smarter not harder.

— OOO 🇳🇬🕊 (@Timi_OOO) December 21, 2018
Eventually, she set a trap for him by going away for the weekend and left him home with their AI. Everything that was said to the device was recorded in the app on her phone.
Merry Christmas 🎁🎄 pic.twitter.com/bRrBFzAw4Q

— Yerelyn (@spanishbarbie22) December 25, 2017
The boyfriend had a girl over while his girlfriend was gone and she got the recordings of the girl, from the boyfriend's work, that he was cheating with and confronted him.