Flight attendant had to spend Christmas working, but dad found a surprising way to be with her
When a father's flight attendant daughter had to work over Christmas, he spent two days flying across the U.S. to spend time with her.
Working as a flight attendant for Delta Airlines, Pierce Vaughan had to work over December 24 and 25. Having never spent a Christmas without her family, her dad, Hal, decided to join her on every flight.
Hal boarded every one of Pierce's flights on both Christmas Eve and Christmas Day. A passenger, Mike Levy, who sat next to Hal on one of the flights, felt inspired to write about it on Facebook and has not surprisingly gone viral.
Touched by Hal's love for his daughter he wrote:
"I had the pleasure of sitting next to Hal on my flight back home. His daughter Pierce was our flight attendant who had to work over Christmas. Hal decided he would spend the holiday with her. So, he is flying on each of her flights today and tomorrow around the country to spend time with his daughter for Christmas.?. What a fantastic father! Wish you both a very Merry Christmas!"
Feeling grateful in having spent Christmas with her dad, Pierce wrote on Facebook:
"A special thanks to all of the patient, wonderful gate agents around the country and my perfect crew."
Pierce had a total of 6 flights scheduled over the two days, and Hal made it onto all off them, which she called a "Christmas miracle."
Delta Airlines offer 'free and reduced rate travel benefits' for their employees and eligible family members, so Hal was able to fly standby for free, as long as there is an empty seat on the plane.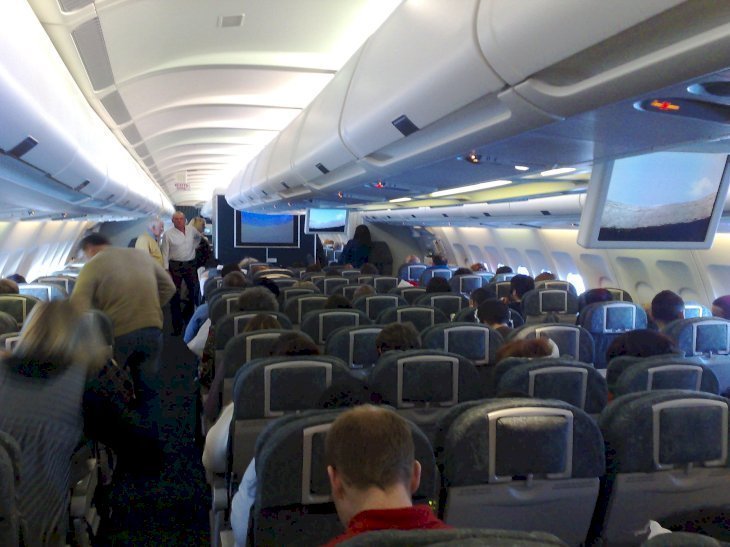 As far as Christmas miracles go, this is probably one of them, as there was an extra seat available on every flight, with one even including a first-class seat from Florida to Michigan.
Hal flew on his daughter's flights for the first time, as he had an accident a few months after Pierce started work.
He broke his neck and the possibility of him never walking again was a real one. Following months of physical therapy, Hal gained back his mobility and was able to travel. 
Pierce was happy to have her dad with her; it was a touching act of love from the one that pinned the wings on her uniform the day she graduated as a flight attendant. Pierce added:
"I'd just never been without my parents on Christmas, so my mom took one for the team and stayed home with all of the pets so he could take his first trip since the accident with me."
Since Mike Levy's post on facebook it has had over 150,000 views, and more than 30,000 shares.
Jacksonville saw the rise of another Christmas miracle after doctors told William and Alaina Vandervelden that they were not hopeful after their daughter with cystic fibrosis, fell into a coma. 
On December 5, family, friends, and people worldwide came together to pray for Christina. The next day, her parents went to the Mayo Clinic in Jacksonville to visit their comatose daughter, but the nurses excitedly shared that they had a surprise. Christina had woken up!
Christina started with physical therapy soon after but needs to get better before she can become eligible for a dual lung transplant.
Consider following if you are on Instagram. Or read more on our Twitter account @amomama_usa or both!
(Young girl wakes up from two-week coma: 'Our Christmas miracle is happening')

Christina "Chrissy" Vandervelden woke up from a two-week coma but is still in need of prayers on her road... - https://t.co/GyhD7vcC8q pic.twitter.com/vCsf9vZTnm

— idigibay (@gooshi2000) December 11, 2018