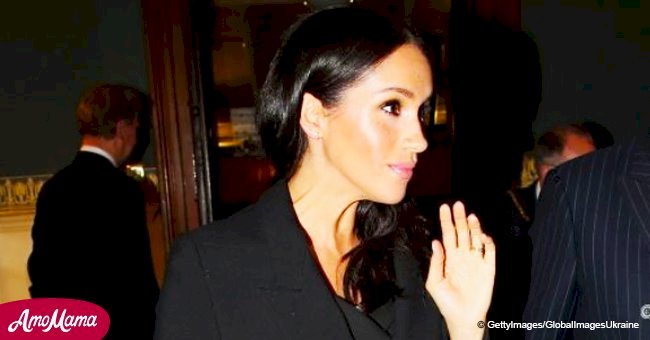 Rare video of Meghan Markle singing 'Santa Baby' in a festive hat reappears right on Christmas
The Duchess of Sussex made headlines after an old video of hers, which sees her performing to a Christmas song as a teenager, went viral.
In the video, a 17-year-old Meghan Markle sings her heart out to the lyrics of the song, "Santa Baby," as she takes the stage during a high school Christmas show.
The description to the uploaded video informed that the footage was taken during a 1988 Christmas show at Immaculate Heart High School in Los Angeles. At the time, Markle was in her senior year at the school, just before she went to university.
Markle's remarkable ability as a performer needs no introduction today. But she proved with the video that she always had an artistic flair about her, even as a teenager.
Even in the recently uncovered short clip, she is seen giving her best to win the hearts of the people. She seems completely motivated as she lip-syncs to the lyrics of the song.
Markle looks like an average teenager dressed in a sleeveless all-black outfit and a Santa hat. On the stage, she was accompanied by her fellow student, named Natalie Fryman, who also went on to become an actress.
The performance begins with Markle and her classmates holding candles with the music of "Silent Night" playing in the background.
The rare video has been adored by the internet with more than 70,000 views on YouTube, where it was uploaded by Universal Media Online.
"Santa Baby," the song at which Markle performed, has become a huge Christmas hit since it was first recorded in 1953 by Eartha Kitt.
The song captivates the interest of people with its 'cheeky lyrics,' which is asking 'Santa Cutie to hurry down the chimney with an embarrassment of riches.'
Today, as Markle prepares to spend her first Christmas with the Royal Family as the Duchess of Sussex, she is also expected to be participating in their several strange Christmas traditions.
One of such strange traditions, as per Ingrid Seward, royal expert and editor of Majesty magazine, is that each member of the Royal Family has to be weighed in before and after their Christmas dinner.
Follow us on Twitter for more.
Please fill in your e-mail so we can share with you our top stories!