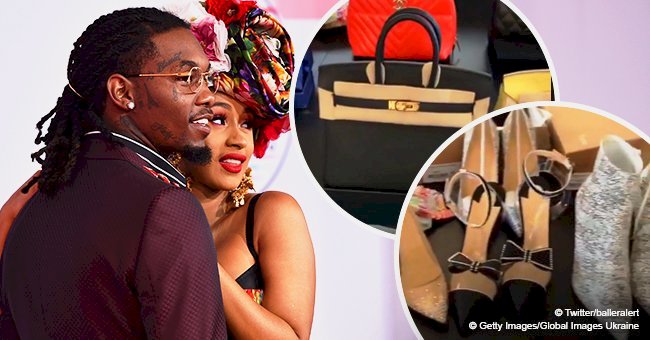 Cardi B flaunts expensive gifts from Offset, including shoes, purses & jewelry after their split
While fans continue to wonder about the status of Cardi B and Offset's relationship, the "Migos" rapper continues to try to impress his estranged wife, and he's putting his money where his mouth is.
Three weeks after announcing their separation, Cardi took to Instagram the day after Christmas to show off the expensive gifts she got from Offset.
The "Money" rapper made a video of her array of luxury presents including two Chanel bags, one of which retails for $6,950, four Hermès Birkin bags (one of the models cost over $15,000), at least nine pairs of Christian Louboutin shoes, and several pieces of jewelry.
"Thanks, @offsetyrn," Cardi wrote in a video that has now been deleted.
On her Instagram Story, she also gave a shout-out to a popular Hermès reseller, implying that they helped Offset pick out the bags, reports Daily Mail.
"Offset, 27, had previously made an extravagant move towards reconciliation that didn't quite work out."
But Cardi was not the only one getting the expensive gifts. The 26-year-old, who shares five-month-old daughter Kulture with Offset, also showed off some items for their little girl.
There was a glittering diamond pendant fashioned after the letters of Kulture's name, and of course, a cute Elmo that Cardi seemed to be pleased with. "My baby got her first Elmo," she wrote.
Just before Christmas, Offset and Cardi had fans confused when a photo of them jet-skiing together in Puerto Rico made it to the internet. The "Bodak Yellow" hitmaker was in the country to perform at a festival when she hooked up with her man.
Clearing up the situation in an Instagram Live session, Cardi let fans know it was purely physical. Offset, on the other hand, seemed to think there was more to it.
He shared a video of himself dancing to "The Way You Make Me Feel" by Michael Jackson and accompanied it with a caption referencing Cardi's lady parts:
"[Expletive] K N O C K E D M E O F F M Y F E E T B A B Y 9/20 M E R R Y C H R I S T M A S."
9/20 stands for September 20, the day they got married in a secret ceremony last year.
Offset, 27, had previously made an extravagant move towards reconciliation that didn't quite work out. He gatecrashed Cardi's December 15 performance in L.A, coming on stage and arranging for a giant wall of red and white flowers that read "Take Me Back Cardi."
Cardi's response at the time was not encouraging, but it seems the Christmas gifts produced a different reaction and fans will be waiting to see what the next step is for the "I Like It" rapper.
Please fill in your e-mail so we can share with you our top stories!