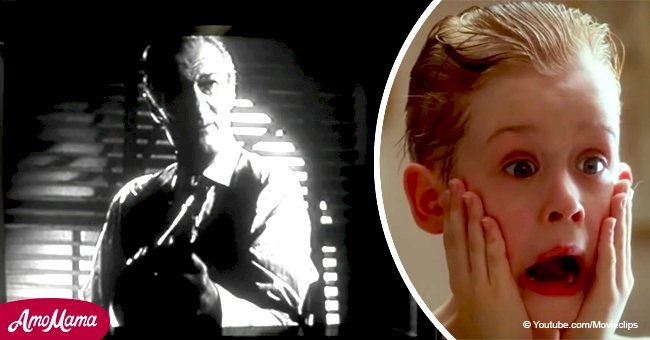 New revelation about gangster movie from 'Home Alone' leaves more fans baffled this Christmas
On none other than Christmas Eve, Seth Rogen shocked fans with an important detail from 'Home Alone' that no one noticed until now.
As the storyline of the movie goes, Kevin McAllister spread mayhem after accidentally being left behind as his family takes off for the holidays.
When two buffoons try to break into the house, Kevin decides to defend his home by every imaginative means necessary. In aid of his task, Kevin used the dialogue from an old gangster movie titled 'Angels with Filthy Souls.'
Cranking up the volume, "Keep the change, ya filthy animal!" could be heard from outside, and meant to hide the fact that there were no adults at home.
An as the 36-year-old actor Seth shared that the line from that movie featured in 'Home Alone' only, fans got confused.
As a matter of fact, there is no such old movie as 'Angels with Filthy Souls.' The movie got created solely for use in the holiday classic, 'Home Alone.' Shocked by the revelation, Seth wrote on Twitter:
"My entire childhood, I thought the old-timey movie that Kevin watches in Home Alone (Angels With Filthy Souls) was actually an old movie."
Stunned by the news that the gangster movie in 'Home Alone' was fake, the comments rolled in. Not even the director of the movie, Rodney Rothman knew and replied:
"I didn't know it until you just said this."
Daniel Kibblesmith, a comic book writer, was the only one that knew about the previously overlooked fact as he commented:
"Me too. And then when the sequel came out, and he watches the fake sequel [Angels with Filthier Souls], I thought, "Oh, so that's why they chose it. In case they made a Home Alone 2."
The fake old gangster movie, 'Angels With Filthy Souls' got shot in one day on a set with two walls. Viewers could see the name of the movie when Kevin popped it into the VHS player and referred to the very real 1938 flick, 'Angels with Dirty Faces.
Not surprisingly 'Home Alone' became a holiday classic and held an impressive record as the highest domestic theatrical grossing live-action comedy for 27 years. The movie reached an astonishing total of $285.7 million until it got surpassed in 2017 by the film, 'Never Say Die.'
Writer, John Hughes, put the screenplay for 'Home Alone' together in just nine days during a vacation in 1990, and elaborated:
"I was going away on vacation and making a list of everything I didn't want to forget. I thought, 'Well, I'd better not forget my kids.' Then I thought, 'What if I left my 10-year-old son at home? What would he do?'"
Perhaps we won't' find out what Johns's son would have done, but what John did by writing the screenplay to one of the most loved holiday classics of all time, is entertaining millions of people the world over year after year.
Google found a powerful way to market their home assistant as 38-year-old Macaulay Culkin returned as Kevin McCallister for their new commercial. The advertisement is only a minute long but takes you through many favored memories from the beloved movie.
The commercial cleverly integrates childhood shenanigans with the abilities of Google's home assistant and make for an attractive confluence of fond memories and impressive capabilities of the product.
Please fill in your e-mail so we can share with you our top stories!