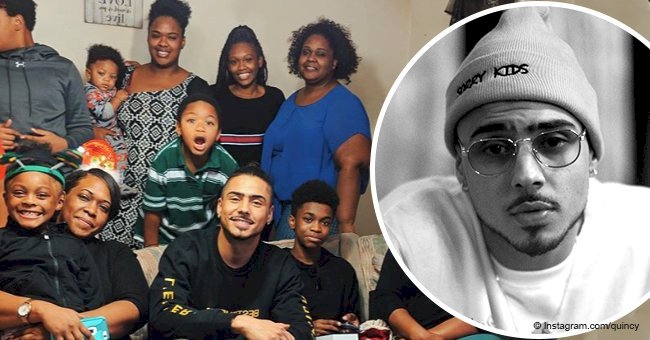 Kim Porter & Al B. Sure's son Quincy helps random families on Christmas while grieving mom's death
It's his first Christmas without his mom, and Quincy Brown made sure to celebrate the season in a way Kim Porter would have been proud of.
Despite still grieving his mother's death, the "Star" actor spent Christmas surprising random families with gifts and visits on Christmas day.
Quincy delivered a Christmas tree to a man named Derrin and even helped decorate it. "More smiles, trees, decorating & sharing the #ChristmasTime spirit with my boy Derrin," he wrote alongside a photo of he and Derrin in front of the brightly-lit tree.
Quincy's quest also saw him visiting a single mom with gifts. He posed for several pictures with the family and captioned the post:
"For #ChristmasTime, I was happy to also surprise Ashawna and her 11 yr old son with some Christmas love! Shoutout all of the single mothers out there....We love you! Hope we made it memorable for you and your family. Merry Christmas Eve Qrew!"
Finally, he visited a man named Michael to celebrate "his first tree at his new apartment and his new Google Pixel!"
The 27-year-old was greatly affected by the November 15 death of his mother. After a heartfelt tribute in which he acknowledged his struggle to make sense of the tragedy, a source told HollywoodLife.com:
"Quincy and his mom were so close, there's going to be a hole in his life forever."
The source added that Quincy was doing all he could to remain strong for his siblings because he knew his mother would want them to go on living their lives.
The Hollywood actor is the first of his mother's four children, and his father is the music producer, Al B. Sure. Quincy was however raised by Diddy with whom Kim shared three other children, son Christian, and 12-year-old twin girls, Jessie and D'Lila.
Earlier this month, Quincy shared another tribute to his late mom, assuring her that he's doing exactly what she'd approve of.
"You showed me how to simply live life and be happy no matter the circumstances. So that's exactly what I'm doing. I miss you & love you so much, mommy."
It looks like Quincy is keeping true to that promise in every way.
Please fill in your e-mail so we can share with you our top stories!