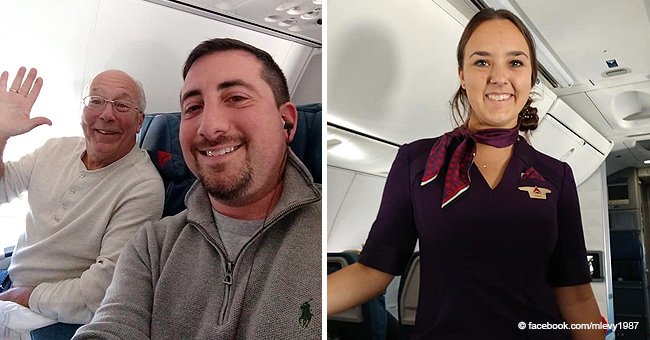 Father flies with his daughter stewardess all Christmas Eve so she didn't feel alone
A father showed the unconditional love he had for his stewardess daughter when he decided to hop on not on one but several airplanes in Christmas Eve and Christmas Day so that she wouldn't feel alone.
Sometimes spending Christmas with the family can be hard when work gets on the way, but his father was not about to let his lovely daughter feel lonely over the holidays, even if he had to celebrate Christmas away from solid ground.
Pierce Vaughan, a stewardess from Michigan, works as cabin crew for Delta Airlines. She was called in to work on December 24 and 25, so she wasn't going to see her family on the festive days. However, her father Hal Vaughan found a way to join his girl without interrupting her job.
He decided to fly on every single one of Pierce's assigned flights so that she wouldn't feel alone away from her family.
The sweet story was shared on Facebook by passenger Mike Levy, from Ohio, who was sitting next to Hal on a Delta Airlines flight from Fort Myers, Florida, to Detroit on Christmas Eve.
"I had the pleasure of sitting next to Hal on my flight back home. His daughter Pierce was our flight attendant who had to work over Christmas. Hal decided he would spend the holiday with her," he wrote on the post. And continued:
"So, he is flying on each of her flights today and tomorrow around the country to spend time with his daughter for Christmas. What a fantastic father! Wish you both a very Merry Christmas!"
The post went viral with 108k reactions and almost 40k shares.
Levy later told ABC News that he thought Hal's story was admirable and so, he asked the father and daughter for pics and permission to share it on Facebook.
"As I was sitting there waiting for the person next to me to come on the plane, I was hoping it would be some kind of celebrity, and I ended up making him celebrity instead," Levy stated.
PEOPLE'S REACTIONS
Pierce later shared Levy's post and took the chance to thank her cabin crew and the rest of the gate agents around the country who were patient with her father's trip schedule. She wrote:
"Dad's first trip using his benefits was a success! A special thanks to all of the patient, wonderful gate agents around the country and my perfect crew. He made it on every flight and even got first class RSW-DTW (Christmas miracle). Shoutout to Mike Levy for being a great first class passenger & helping us to understand how cool this actually is!"
People from all over the world commented on Pierce's post to congratulate her for having such an incredible father. One user wrote:
"Awesome dad. As a father myself, I can understand this level of love for our kids. He gets my Vote for Father Of The Year! Great lifetime memory."
And another added, "What an amazing story, love it !!!! I have daughters myself and just no limit to what you will do for them, they are the best thing in the world."
ANOTHER 'FATHER OF THE YEAR'
On a similar note, another competitor for the hypothetical "Best Father of the Year" award is a young dad from a small town called Palmer outside Anchorage, Alaska, who didn't let the snow come between his daughter and his happiness.
The loving father stepped out of the house to face the harsh weather and get some bruises, all to get his 3-year-old daughter her dream toy. He slid down the icy slope in front of his home just to try and rescue a kitchen toy from the back of his truck.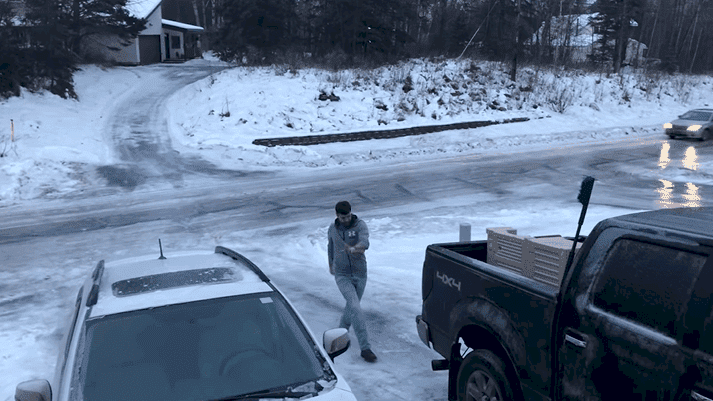 Source: YouTube/ViralHog
His daughter had been looking forward to playing with it, but heavy and cold rain had made it impossible for the dad to get the kitchen inside.
After many efforts and certainly some bruises, he managed to move the toy towards the house, all while his wife recorded his actions on video.
Please fill in your e-mail so we can share with you our top stories!