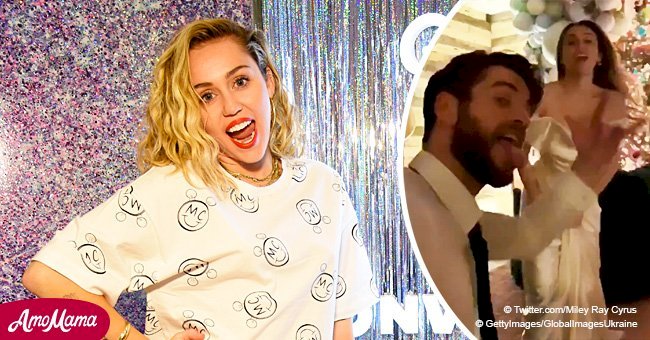 Miley Cyrus bares her shoulders in plunging slinky dress while dancing in a post-wedding video
After a long love story and engagement the two young celebrity sweethearts finally tied the knot, and while it was an intimate and almost secret celebration, it seems that they had a wonderful time with lots of fun.
The news of 26-year-old Miley Cyrus and 28-year-old Liam Hemsworth's long-expected wedding started to surface following suggestive videos shared online by guests and family members that attended the discreet event.
On December 26, the pop singer and actress took to her Instagram account to confirm that she and Hemsworth had in fact gotten married, using a series of pictures from the special day and teasing pieces of information.
That same day, Cyrus posted a video of herself dancing to the beat of Mark Ronson and Bruno Mars hit song "Uptown Funk," and there is no denying that she was having a blast. Read more on our Twitter account @amomama_usa
On the short clip, the public can get a better look at Cyrus' wedding dress while she showcases her signature dance moves to the popular tune before Hemsworth enters the frame in a white shirt and black tie.
The "Wrecking Ball" singer's tweet was greatly received by her followers on social media, who have retweeted it over 100.000 times and liked it more than 650.000 times in less than two days.
"I saw them growing up since I was little and now they are married… I love seeing them happy, I'm crying," replied a fan. "Was amazing to watch... finally happened... what a long wait…xo," added another user.

Hemsworth also took to his social media to mark the occasion, sharing one of the same black and White pictures his wife posted on his Instagram account, simply captioning it "My love."
Miley's father, country singer Billy Ray Cyrus, celebrated his daughter's milestone with a tweet in which he used a low-quality Blackberry camera to capture the moment when the newlyweds are about to cut the wedding cake.
"Wedding wouldn't be complete without one shot from Dads outdated blackberry camera. Love seeing all so happy," wrote the proud father.
Fans of the couple had to wait two more years still to see the two becoming husband and wife, and now that it is a reality, they can't hide their excitement.
Miley and Liam's relationship dates back to 2009 when the two young actors met and spent considerable time together on the set of "The Last Song," a film where they played a pair of teenagers in love.
There was definitely chemistry between them in front and behind the camera, and the two grew very close. By March 2010, they made their red carpet debut as a dating couple.
After quite the bumpy ride, with breakups, engagements, cancellations, rumors of cheating and other relationships in the interim, they renewed their promise to marry each other, as Miley confirmed it on an October 2016 TV appearance.
Fans of the couple had to wait two more years still to see the two becoming husband and wife, and now that it is a reality, they can't hide their excitement.
And for those that are afraid that with Miley settling as a married woman her rebellious years will be finally gone, let's remember what her last public performance was like.
On December 20, Miley starred in a parody of a traditional Christmas TV broadcast on the "Tonight Show Starring Jimmy Fallon," where she updated the lyrics to a classic holiday song to give it a feminist twist more in accordance to our times.
Please fill in your e-mail so we can share with you our top stories!