Real cost of Kim Kardashian's Christmas party revealed - and it's huge
The Kardashians aren't exactly known for their moderation, with them it's all or nothing. And as Kim Kardashian hosted their annual Christmas Eve party this year, there were no holds barred.
A-list celebrities got welcomed to a winter wonderland of everything Christmas for an unforgettable evening of fun and wintery magic.
Held at Kanye West's Hidden Hills $60 million compound, one expert estimates the cost of the party to be around $1.3 million. This would include everything from snow to a forest of fine-art tree sculptures for the evening.
Friends and family that enjoyed the evening together included sisters Khloe and Kourtney Kardashian, Kendall and Kylie Jenner.
Celebrity friends that joined the Kardashians for the evening was Jennifer Lopez, Alex Rodriguez, Paris Hilton, Sia, Kimora Lee Simmons, Dave Chapelle, Tyler the Creator and John Legend, who performed songs off his Christmas album, 'A Legendary Christmas,' during the evening as well.
Mindy Weiss was tasked with creating the holiday magic, and she did not disappoint. With plenty of experience, Mindy has orchestrated the weddings of Russell Wilson and Ciara, Heidi Klum and Seal, as well as a baby shower for Jessica Simpson.
Kim Kardashian aptly referred to the snow-covered property as "literally Calabasas turned into Colorado." Approximately 1 acre of the property got transformed by the snow manufacturing Company Greer, into a wonderland of snow, which including installation and removal with a cost of around $350,000.
The backyard served as the centerpiece of the celebration and featured a snow sledding hill priced at around $15,000 created by The Trask House, a tunnel of 10,000 lights designed for selfies, multiple dance floor tents racking up the bill at an estimate of $50,000 each.
Additionally, what Kim described as "a winter wonderland Whoville," consisted of numerous puffy white trees suspected to be the works of the contemporary artist, Kathy Temin, with each tree carrying a price tag upwards of $10,000, and there was about 20 of them.
The lighting specialists took care of the selfie tunnel and all the fixtures to light the interior of the tents and sledding hill and added around another $80,000 to the bill.
Food and drinks got catered for by The Kitchen for Exploring Food, and a sugar artist also got invited to make custom lollipops for the kids and tallied to around $100,000 for all the guests.
The Kardashians went all out, and their guests seemed to enjoy a festive Christmas Eve party filled with holiday cheer, and sledding, which brought the child out in many!
Kim Kardashian Seemingly Gets Her Diamond Engagement Ring Back 2 Years After Paris Robbery https://t.co/9HgUf26XR8 pic.twitter.com/LUJ2osZJJ8

— thecelebdiary (@thecelebdiary2) December 26, 2018
Kim Kardashian looked stunning in a long fitting white dress, but there was one notable change. Shining on her left hand was a massive diamond ring, as seen on a series of family shots taken during the evening, and looked very similar to the one that got stolen.
It is the first time Kim wore extravagant jewelry in public since being robbed while held at gunpoint of $10 million worth of jewelry during the Paris Fashion Week two years ago. Since the incident, she had kept to wearing a plain gold or diamond band on her ring finger.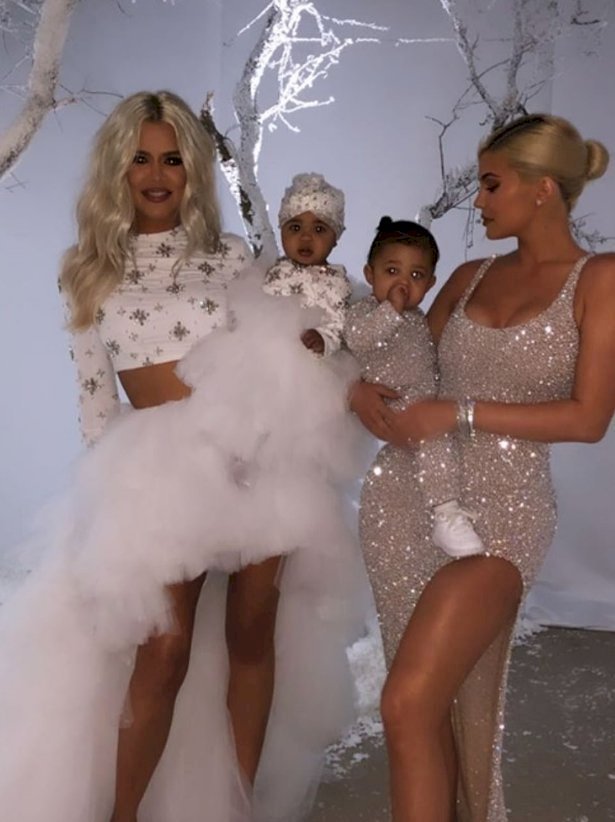 Sister Kim was not the only one to be dressed in all
white
, all the Kardashian women dressed in white while mum Kris Jenner stole the show with a figure-hugging silver dress, a new wig, red lips, and big earrings. Jennifer Lopez's dress looked similar to Kim's, and the two looked stunning as they posed for a snap together.
Bets are some fans may already be wondering what the Kardashians will come up with for their next annual Christmas Eve party.