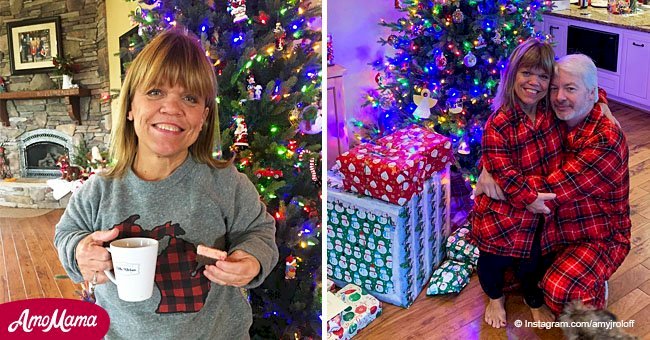 Amy Roloff hugs her boyfriend wearing matching pajamas posing under a sparkling Christmas tree
Amy Roloff is best known for starring on the reality television series "Little People, Big World." She has gained many Instagram followers as a result of this. They were delighted to see her recent Christmas photographs.
Amy is divorced from her former husband and co-star Matt and is currently dating Chris Marek. The couple has even started their own Christmas traditions.
Amy posted Christmas photographs of her and Chris on Instagram. They are both wearing red flannel pajamas and sitting cozily together under the Christmas tree.
Read more on Twitter @amomama_usa.
LITTLE PEOPLE BIG CHRISTMAS
Amy and Chris have been together for over two years and seemed to be happier than ever in their Christmas photographs.
Many of Amy's followers took to the comments section of the picture wishing her and Chris a merry Christmas and only the best for the future.
Chris and Amy started dating in 2016 after her divorce with Matt Roloff. Matt is currently dating Caryn Chandler.
Chris and Amy have been quite busy in the last few months as they had a photoshoot for their second anniversary and hosted a Thanksgiving dinner.
MATT'S LOVE
Amy is not the only star of the reality show with love in her life. Her ex-husband, Matt, is over the moon with his girlfriend, Caryn.
Earlier this month the pair shared a Christmas photo on Instagram of them cuddling close together, and their followers immediately started concluding.
Fans of the couple thought that the cute picture might be a sign that they are engaged, but that turned out to just be a rumor.
CHRISTMAS CARD OR MAYBE MORE?
Amy and Chris' fans would also like to know when the pair are getting married and thought that their Christmas card was a sign of their engagement.
Amy posted their Christmas card on Instagram, and while some people reacted in line with the message she was sending out, most people asked when they would be getting married.
The couple is very much in love but does not feel that the timing is right at the present moment to take such a big step in their relationship.
Please fill in your e-mail so we can share with you our top stories!