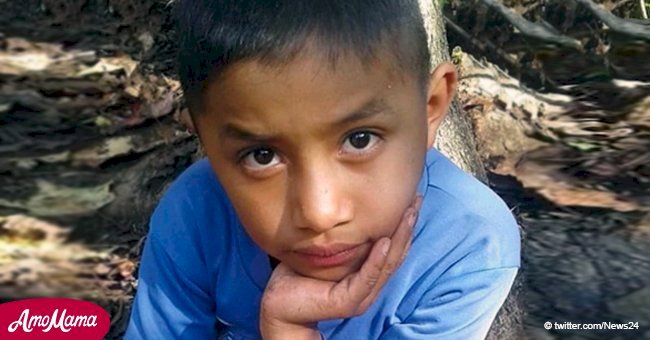 New details emerge about 8-year-old Guatemalan boy who died in U.S. custody
New details have emerged as regards the untimely death of Felipe Gomez Alonzo, an 8-year-old migrant child who passed away in US custody on Christmas Eve.
Ongoing investigations by the New Mexico Medical Investigator's office into the cause of death of Felipe, the second migrant child to die this month, have revealed that he was suffering from the flu. While they cannot conclude yet as to whether this was the exact cause of death, results from nasal and lung swabs showed that he tested positive for influenza B.
A statement released by the office read:
"While this result indicates that the child had influenza, determining an accurate cause of death requires further evaluation of other laboratory specimens and interpreting the findings in the context of the symptoms and autopsy findings."
Felipe Gomez died on December 24th after efforts to get him treated proved abortive.
Earlier that day, a US Customs officer noticed that the boy was coughing incessantly and he "appeared to have glossy eyes," so, he and his father were transported to the hospital.
Doctors diagnosed the boy with fever, to which they prescribed medication and released him. He was taken to a highway checkpoint where he had a hot meal and received the right dose of medication. However, his health only deteriorated.
At 7 pm, he appeared nauseous and vomited, but no further treatment was administered at that point. Later in the night, it was clear that the boy needed urgent medical attention, but there was no medical professional on duty at the time.
Naturally, the officials around moved to rush him to the hospital, but he lost consciousness on the way and could not be resuscitated. He was pronounced dead at 11:48 pm.
Felipe's death, which is the second of its kind this month, brings to fore concerns about the state of health of migrants detained at CBP facilities. Just this month, a 7-year-old girl was reported to have died of dehydration more than eight hours after border patrol agents arrested her, along with a group of 163 migrants.
Quite a number of people have voiced out concerns about the state of health of migrants in custody, including Dr. Colleen Kraft, the president of the American Academy of Pediatrics, who stated that this sad occurrence highlights the need for pediatric-trained personnel at CBP facilities.
Indeed, the government needs to do their best to provide adequate healthcare regardless of a person's nationality.
Follow us on our Twitter account @amomama_usa to learn more.
Please fill in your e-mail so we can share with you our top stories!