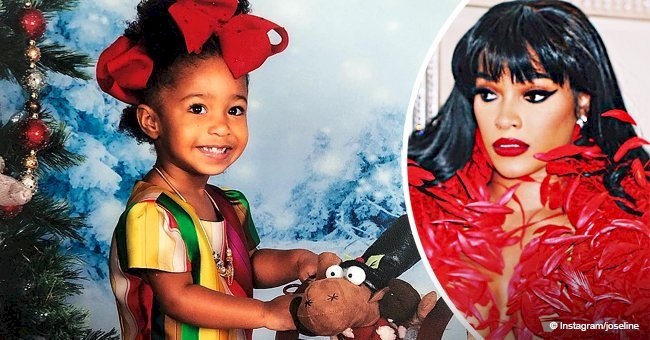 Joseline Hernandez slammed for daughter's missing teeth & 'tacky' dress in recent holiday pic

After deciding to share less of Bonnie Bella's photos thanks to trolls, Joseline Hernandez made an exception for the holidays but was quickly reminded of her earlier resolve.
The "Love & Hip Hop: Atlanta" alum decided to show off her daughter's festive look on December 21 and posted two pictures of Bella posing with a Christmas tree.
The two-year-old wore a rainbow dress paired with peach-colored sneakers and white socks, a neckpiece, and huge pretty red bows in her hair.
An elated Hernandez left a touching message for her daughter in one of the posts. "Bonnie'Bella has brought me to my knees and brought me closer to the man upstairs," she began, adding:
"She is my miracle. Your Born day Dec 28 is near and your Mother is planning something very Special. You are everything a mother deserve and more. Thank you for choosing me to be your Mother!"
CRUEL WORDS FOR A TODDLER
Unfortunately, eagle-eyed netizens saw more than what Hernandez, 32, had in mind. In no time, the reality star/rapper was called out for her daughter's missing teeth and tacky outfit.
One Instagram user retorted:
"What happened to her teeth? She's too young to have lost the baby teeth already."
"@hitmansteviej_1 You need to hire a stylist for your daughter. This is embarrassing," wrote a second user who also tagged Hernandez's ex and Bella's father, record producer Stevie J.
Another quipped:
"That baby is so cute....but I wish y'all would hire her a stylist or something, because Joseline be having that poor baby looking CRAZY!!"
Some social media users also felt it was inappropriate for the "Spanish Rockstar" rapper to have her daughter's photos next to risqué images of bikini-clad women, referring to preceding posts on Hernandez's Instagram account.
FANS COME TO HER DEFENSE
On the flip side, there were those who could not stand to see a child dragged so cruelly and said as much.
"What if this was Bella's choice?!?! IJS I have 5&3 year old daughters. They are at that age where they like to pick and choose as well. As a mom, I let them. The world is cruel. That's why people don't like posting their kids. Geesh she is a baby!!!!" ~ @kenjis_hideout_spot
"Some people are so ignorant. This child is beautiful. All kids loose teeth" ~ @blackgal56
NEVER-ENDING BACKLASH
There's hardly a time that Hernandez has not come under fire for her competence and ability as a mother.
In September, the "Puerto Rican Princess" was criticized after she shared a photo of Bella and joked in the caption, saying: "Future Russian spy."
The same month, she was accused of being a "satan worshipper" for posing with Bella in front of two religious statues.
FIRM RESOLVE
Recently, Hernandez explained that the constant negativity on social media made her decide to post fewer pictures of her daughter.
Responding to an Instagram rant by Princess Love where she vowed never to post a photo of her daughter again because of negative comments, Hernandez said:
"That's why I barely post Bonnie Bella anymore. People is (sic) not worthy of our blessings."
Looks like Hernandez was right all along, and by the way, it's the 28th so happy birthday to Bonnie Bella!
Please fill in your e-mail so we can share with you our top stories!