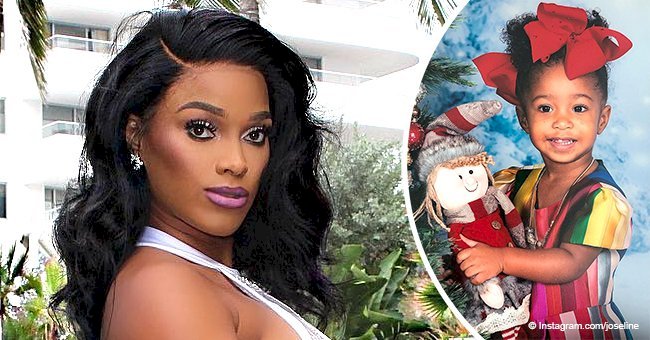 Joseline Hernandez melts hearts with Christmas photos of growing daughter Bella wearing red bow
Joseline Hernandez recently shared adorable photos of little Bonnie Bella, and social media users can't get enough. Unfortunately, the reality star/rapper still got called out for some details she may have overlooked.
Hernandez, 32, took to Instagram with two pictures of her daughter looking quite festive in a colorful outfit. The almost-two-year-old rocked a rainbow dress paired with peach-colored sneakers and white socks.
Netizens felt it was inappropriate for the "Spanish Rockstar" rapper to have her daughter's photos next to risqué images of bikini-clad women.
Her only jewelry was a neckpiece, and her curls were adorned with pretty red bows. Bella posed next to a Christmas tree, and a couple of stuffed toys and the little lady couldn't help smiling broadly at the camera.
The "Love & Hip Hop: Atlanta" alum referred to Bella in one of the posts as "Santa Baby" and left a lengthy touching tribute on the other.
"Bonnie'Bella has brought me to my knees and brought me closer to the man upstairs. She is my miracle," began Hernandez, adding:
"Your Born day Dec 28 is near, and your Mother is planning something very Special. You are everything a mother deserve and more. Thank you for choosing me to be your Mother!"
MIXED REACTIONS
Many of her followers came up in the comments with sweet words for Bella. "She is getting so big, and she is so cute," said one user while another chimed in: "Omg she growing up so fast she's too beautiful."
Sadly, as on previous occasions, Hernandez got some not-so-nice comments for the way she dressed her daughter.
"@hitmansteviej_1 You need to hire a stylist for your daughter. This is embarrassing," wrote one person who also tagged Hernandez's ex and Bella's father, record producer Stevie J.
Another quipped: "That baby is so cute....but I wish y'all would hire her a stylist or something, because Joseline be having that poor baby looking CRAZY!!"
This time also, some netizens felt it was inappropriate for the "Spanish Rockstar" rapper to have her daughter's photos next to risqué images of bikini-clad women, referring to the preceding posts on Hernandez's Instagram account.
A PAINFUL DECISION
The "Puerto Rican Princess," as she's fondly called, is no stranger to getting backlash over her daughter, and a few days ago, she explained that the situation has made her post fewer pictures of Bella.
Responding to an Instagram rant by Princess Love where she vowed never to post a photo of her daughter again because of negative comments, Hernandez said:
"That's why I barely post Bonnie Bella anymore. People is (sic) not worthy of our blessings."
Before her latest post of Bella, Hernandez shared a video of the cute tot playing with drums and another of the mother-daughter duo as they decorated a blue Christmas tree.
Bella is the only child of Hernandez and her ex, Stevie J. She was born on December 28, 2016, and will turn two in the next four days.
Please fill in your e-mail so we can share with you our top stories!