T-pain helps ill brother by paying his $1.4 million hospital bill
Rapper T-Pain has shown his dedication to his family by helping his sick brother.
Rapper T-Pain's will be footing the hefty $1,4 million dollar hospital bill for his brother's treatment for a recent illness, he revealed in an Instagram post on December 27, 2018.
T-Pain's brother is blessed to have such a generous brother who is in a position to help.
"I first wanna say thank you to all the ppl that were involved in keeping my brother alive. I can't express enough gratitude to the medical staff that kept my family whole."
T-Pain, Instagram, December 27, 2018.
T-PAIN THANKS DOCTORS FOR BROTHER'S LIFE
T-Pain posted the photo of his brother's staggering hospital bill, and he captioned with words of gratitude for the medical staff who saved his brother's life.
The rapper's brother was hospitalized for over a month in two different facilities, he revealed, although he did not disclose his illness.
The rapper is embroiled in a legal battle with his former managers, Chase Entertainment, over millions of dollars in fees. 
A STAGGERING BILL FOR HOSPITAL CARE
T-Pain has received two hospital bills for his brother's care, one for $1,132,746 and another for $270,231; totaling a staggering $1,4 million. Most of us would find it impossible to make good on such debt without health insurance, and T-Pain's brother is lucky to have his support.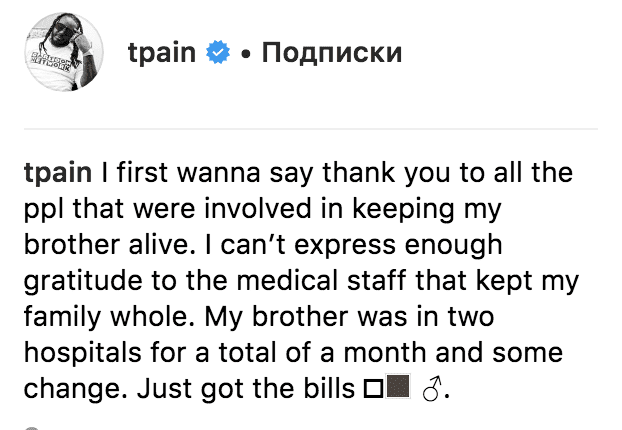 T-PAIN HAVING LEGAL ISSUES OVER HIS FINANCES
This comes as a difficult time for T-Pain. The rapper is embroiled in a legal battle with his former managers, Chase Entertainment, over millions of dollars in fees and commissions the rapper claims they withheld.
A HARD YEAR FOR THE TALLAHASSEE RAPPER
2018 has proved to be a hard year for T-Pain, who started off with a lawsuit against a booking agency in February.
In September the rapper was arrested at the Hartsfield-Jackson Airport in Atlanta for carrying a loaded  Smith & Wesson .380 pistol in his luggage.
T-Pain's gun was registered, and he had the appropriate permits, so law enforcement authorities returned the weapon after unloading it, and charged the rapper a $200 fine. 
"All my guns are legal, registered to me under my license to carry and out of the reach of my children because I'm not a dumbass. Atlanta PD unloaded the rounds and handed it right back to me, I sent it home and caught the next flight out." 
Hopefully, 2019 will be a better year for the rapper, with lots of success and a victory in his court case to help settle the hospital bills.
In a related story, legendary rapper E-40 and his wife Tracy are celebrating their 30th wedding anniversary.