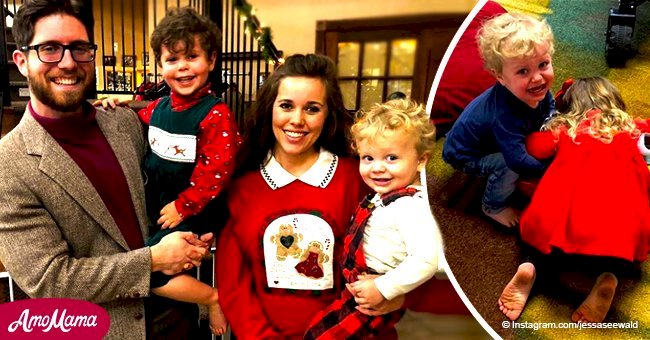 Jessa Duggar is mom-shamed for her niece's dirty feet, but claps back with an honest response

26-year-old Jessa Duggar graciously replied fans who called her out for her niece's dirty feet, shown in a holiday picture posted on Instagram.
Celebrities are fond of posting pictures of their families during the festive season, in a bid to do what we may call 'spreading the love.' Jessa Seewald, the fifth child of Jim Bob and Michelle Duggar, was no exception to this.
To celebrate the yuletide, Jessa posted a picture of her one-year-old son, Henry, and his three-year-old cousin, Meredith, daughter of Josh and Anna Duggar. The kids seemed to be struggling for a toy, leaving Meredith to bend over, her feet thereby exposed to the camera.
She captioned the photo:
'Merry Christmas from our family to yours! Hopefully, there is none of this going on at your house. The gifts are fun, and the food's gonna be great, but let's not forget the reason for the season.'
She then added some verses from the Bible to wrap it all up.
Some Instagram users, however, were more concerned with Meredith's feet and called the mother of two out on her niece's dirty feet.
Some of the comments were:
'Wash those feet lol,'
and
'Wow, those feet are dirty.'
Jessa simply replied them:
'Mine look about the same. It's 60 degrees outside today. That's barefoot weather.'
She also admitted who was instigating the battle for the toy:
'Yes, it's Meredith's toy, and Henry was trying to steal it.'
In what could be termed an interesting comment section, Jessa's admirers came out in support of her.
'Thats why we have soap and water. Kids get dirty. There is nothing wrong with a little dirt. My kids wish it were 60 degrees, so they don't have to wear shoes!!'
Another replied:
'Dirty feet are happy feet!!!'
These lovely comments underscore the love and support Jessa enjoys from her fans.
Fans are also already wondering why there hasn't been an addition to the family in the last few months. With the Duggar family being characteristically huge, this comes with little surprise.
Jessa, however, is now being suspected of possibly bringing the next addition to the family after an Instagram post in which she had a slight stomach bulge.
The caption read:
'Part 2 of the ugly sweater party! We ate way too much Italian dinner, then dove into desserts that were part of a baking competition. Next was a white elephant gift exchange, and then board games and a movie to bring the evening to an end.'
Fans were having none of it and were quick to comment on the bulge.
Whether it's just a food belly or a sign for an additional baby to come, we'll surely know in the coming months.
Follow us on our Twitter account @amomama_usa to learn more.
Please fill in your e-mail so we can share with you our top stories!