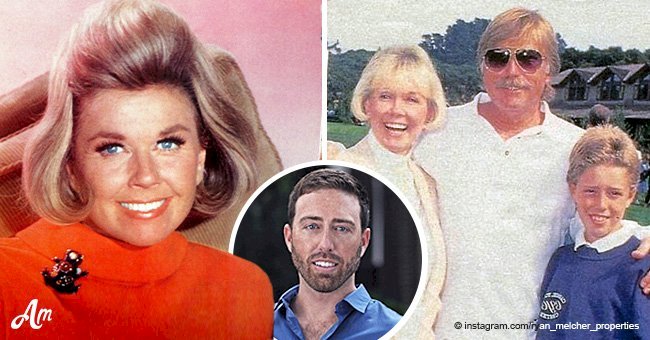 Doris Day's only grandson has grown up into a handsome young man
The only grandson of the icon of the 1950s, Doris Day, has become a successful businessman.
In 1941, when the actress was 17 years old, she married the musician Al Jordan, with whom she had her only child, Terry, who died in 2004 at the age of 62, a victim of skin cancer.
Day has been privately suffering from the painful loss of her only son; she said that he was the love of her life, adding that although nobody can change the past, she thinks that it's important to get through the bad times to appreciate the good things in life.
After her son died, the only family that she has is her grandson Ryan Melcher. Fortunately, he works as a real estate agent in Carmel-by-the-Sea, California, which has been Day's home since 1981.
Ryan is an admirer of his grandma and his father; he often shares photos of them through social media. The most evident bond they share together is their love for animals.
While she was one of the most recognized actresses of her time, she left behind Hollywood in 1973 to dedicate her life to rescuing animals in need.
Day created in 1986 a foundation in defense of animals that bears his name. The actress has always felt a predilection for animals and since the 70s she became an activist in defense of their rights.
In 1951, Day married Martin Melchen and they formed their own production company, Arwin Productions, in 1952. They married when her son Terry was 9-years-old, and he later decided to change his name and become Ryan Melcher.
The death of Melcher, in 1968, revealed what all Hollywood knew: he was a manipulator, he squandered Doris' fortune and did not take all the money to the grave, just because it did not fit in the coffin.
Martin chained her to a television contract with CBS for a weekly show of five seasons and, in the sixth, she left everything because she could not hold on to the same old thing.
In 2004 she received the Presidency of Liberty Medal, but she did not want to go to the White House to pick her up because she is afraid of airplanes.
For this reason, she has rejected the honorary Oscar and last year did not go to pick up the honorary Grammy that was granted.
The star's three-day celebration for her 96th birthday on April 3, 2018, which is now a tradition in Carmel, makes her happiness a contagious thing.
Please fill in your e-mail so we can share with you our top stories!