Rude Texan has a racist tirade in a department store at two employees he claimed 'spoke Arabic'
A Texas man was caught on tape screaming at the employees at the Macy's store, who spoke to each other in Arabic.
The unidentified man was at Macy's department store in Dallas to buy a women's handbag when a manager started speaking Arabic to another clerk sitting behind the Michael Kors counter.
The man was then angry at the employees and began screaming out at them, even lashing out xenophobic rant against "Arabs and Democrats."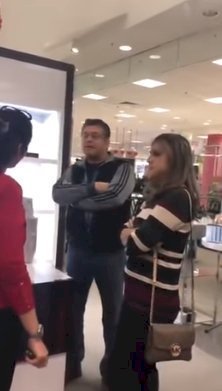 Following his rant, several other customers jumped in to defend the employee behind the counter, who had an accent.
However, the man's rant then extended toward those other customers as well, who came to the employee's defense. He claimed that they were members of the Democratic Party.

 He further passed insensitive comments against people of Middle Eastern heritage, telling them to "go back" where they came from.
"All you Arabs. All you Arabs and Democrats, go back where you came from" the man is further heard screaming at the employees.

When more and more people started joining the debate and spoke out against him, the man said, "Hey, I'm in America, all I asked was for her to speak English."
He further defended himself by stating "I don't speak Arabic, they were speaking Arabic, I don't speak Arabic."

According to Newsweek, the video was first uploaded on Twitter, from where it has now been removed. A Twitter user named Simar spoke out against the video and requested Twitter to 'expose' the man behind the racist tirade.
"This racist man told a woman that she should go back to where she came from & not speak Arabic at a Macys over the holidays. Two different allies stood up for the woman & confronted him. Twitter, do your thing & applaud these allies & help expose this man," Simar tweeted.
The official Twitter account of Macy's store also reached out to the uploader of the original video, asking him to provide more information on the case.
Sadly, such a tragic episode involving people throwing insensitive racial rant against others is not an isolated incident.
Previously, a Korean-American Air Force veteran, James Ahn, also became the victim of a similar racial slur.
I proudly represent #Fremont in Congress. This woman does not represent Fremont, which is a diverse, inclusive community. But she's a reminder of the hate that still exists in America and the work we all have ahead. Thank you, James Ahn, for your service to America. https://t.co/914HbCw640

— Rep. Eric Swalwell (@RepSwalwell) May 25, 2018
During the road rage incident, the veteran was at the receiving end of hateful, racial remark from a woman, who thought that he wasn't going fast enough for her on the highway.