Meghan Markle's sister Samantha was placed on royal security 'fixated persons' list
Samantha Markle's constant criticism of her half-sister Meghan Markle has proved to be too much for the royal family. She has been placed on the royal security "fixated persons" list.
Meghan Markle's sister Samantha Markle has consistently criticized her the Duchess. According to reports, her constant tweets and interviews about Meghan have led the royal security protocols to deem her a "fixated person." 
According to the reports, Samantha earned herself a spot on the police royalty and protection unit's "fixated persons list."  She apparently poses a "reputational risk" to the royal family.
A Scotland Yard source revealed, "Someone like Samantha presents a risk rather than a threat. She is not committing criminal offenses, but she is causing concerns for the royal family." the source then added, "There is big potential for some major embarrassment for the royals. Samantha could make a scene and create headlines with her actions — and let's face it, she's kind of already done that."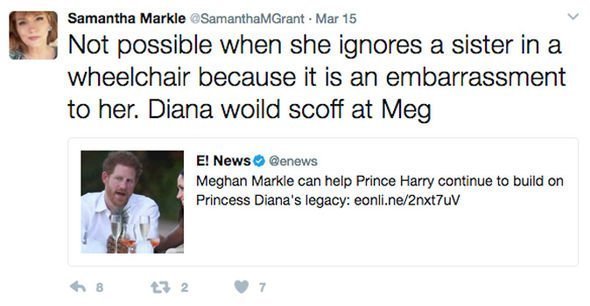 Samantha immediately retaliated saying the entire situation was ludicrous. She took to her private Twitter account to express her views.
"This is ridiculous as I'm in an electric wheelchair and I live on a different continent LOL and advocating for doing the right thing by our dad is hardly fixation. Stop your lying nonsense or be sued," wrote Samantha.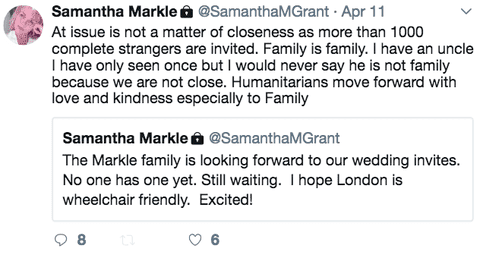 Scotland Yard revealed that they "do not confirm the identity of any person who may or may not be of interest to the police unless that person has been charged." However, Samantha has made a name for herself by openly bashing Meghan.
However, she has also attempted to publicly extend olive branches several times. One such case was a highly publicized Christmas card to the former "Suits" actress which she later rescinded.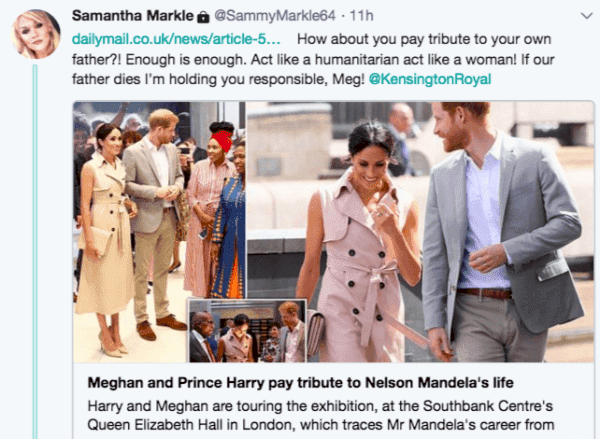 Meghan has been estranged from her sister since going public with her relationship with Prince Harry. She later also became estranged from their father after he missed her wedding.
Markle's father was supposed to walk the 36-year-old former actress down the aisle, However, between a health crisis and publicity debacle, he decided not to attend the ceremony. 
In his absence, Prince Charles walked the glowing bride down the aisle. Though Meghan had wished her father a speedy recovery at the time their relationship after her nuptials deteriorated significantly, especially with her sister adding fuel to the fire.