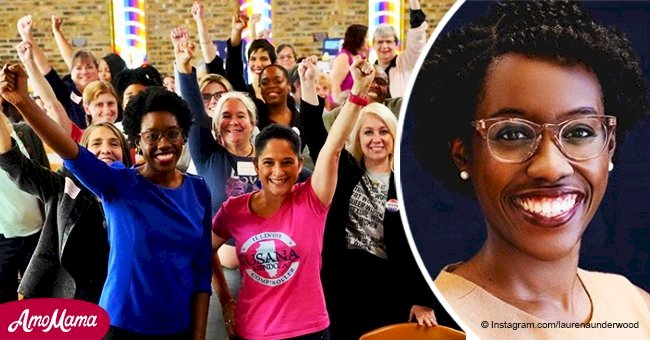 Lauren Underwood is the youngest ever black woman to serve in Congress
Lauren Underwood broke through the glass ceiling and became the youngest ever black woman to serve in Congress when she was sworn into the House on Thursday.
On Thursday, history was made while three new Illinois Democrats were sworn into Congress. The Democrat numbers in the House are rapidly increasing and history was made by 32-year-old Lauren Underwood.
The registered nurse from Naperville became the youngest black woman in U.S. history to serve in the House. She was sworn into Congress and took the oath on Thursday afternoon.
The three new candidates, are the most recent members of the influx of Democrats into Congress. The growing numbers of Democrats have helped the party win the U.S. House.
Underwood has two master's degrees from Johns Hopkins University under her belt. She began her political career as a policy professional in the Obama administration in 2014.
Two years later, she was promoted to a senior adviser at the Department of Health and Human Services. During her time there, she worked to implement the Affordable Care Act (ACA).
In August 2017, Underwood announced her candidacy in Illinois's 14th Congressional District. She wanted to aim at expanding job opportunities, investing in infrastructure and improving the ACA.
The brilliant congresswoman went on to defeat the incumbent Republican, Randy Hultgren, in the Nov. 6 election. She garnered 52.5 percent of the vote.
"Are you excited to make history?," Underwood was asked on Thursday afternoon on her way to the Capitol to which she replied, "A moment in history."
Underwood is one of the three Illinois Democrats who was sworn into the House on Thursday. She was sworn in with Sean Casten and Jesus "Chuy" Garcia.
Her appointment gives the Democrats a 13-5 advantage over Republicans in Illinois' House delegation. Underwood revealed she has already written two provisions in the House rules package.
The first would prevent the use of nondisclosure agreements for congressional staff prohibiting them from reporting sexual abuse, harassment or discrimination to ethics boards. The second to ban sexual relationships between members of Congress and committee staff.
"I have a two-year opportunity to make a real difference and represent the people of the 14th, and they have placed their faith in me," Underwood said. "They've given us a chance. I have to prove myself, and we will, beginning on day one, where I'm leading an effort to reform this government."
Another brilliant black woman making her mark is Ayanna Pressley. Like Underwood, Presley has broken through the glass ceiling and left her mark on politics when she officially became Massachusetts' first black congresswoman.
Please fill in your e-mail so we can share with you our top stories!